WordPress Website Design in Toronto
If your website is making it to the first page of search engine results, this may be due to your effective search engine marketing (SEM) strategy.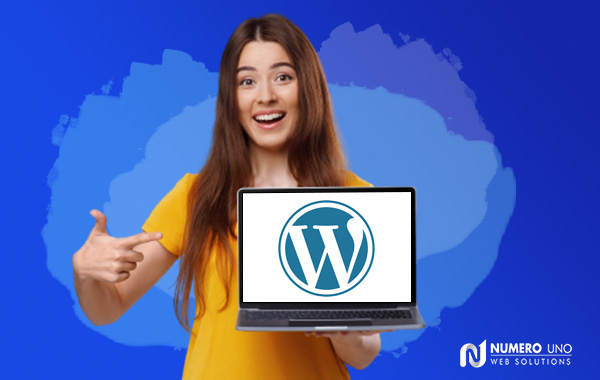 Why Choose a WordPress Website?
What is WordPress? WordPress is a public access free content management system (CMS) that provides all of the tools, templates, and plugins necessary to build and host a custom business or brand website. Numero Uno Web Solutions provides custom WordPress website design services in Toronto. We stand by our use of the WordPress platform for the following reasons.
Total Website Design Flexibility
With over 5,000 free WordPress themes available, you don't have to spend a fortune to design a custom website. Our team of expert web developers can work with you to design the perfect website for your business.
Easily Create a Mobile-Friendly Website
Using a variety of WordPress technical features, our creative web development team will build a custom mobile-friendly, responsive, and fully optimized brand website for you.
Access to an Easy-to-Use Content Management System
WordPress is an incredibly easy to use CMS that supports numerous types of content platforms including websites, blogs, portals, applications, etc.
Support for Different Powerful Plugins
Website plugins such as contact forms and various SEO tools add different layers of functionality to your website to optimize its performance, navigability, and speed.
WordPress Is a Search Engine-Friendly CMS Platform
Our thorough website auditing services coupled with a robust WordPress CMS platform enhance your SEO strategies by increasing your ranking power, visibility, and in turn, conversion rates.
WordPress Website Design and Maintenance Services at Numero Uno
Our WordPress website design solutions in Toronto and the GTA are geared toward helping small businesses across all industries thrive in the digital space. Along with access to high-performance WordPress features, our team of expert web developers take all the guesswork out of website building and management. By implementing the following website design and maintenance strategies, we can help you boost your online traffic and overall user experience.
WordPress Website Technical Audit
Our team of web developers perform routinely scheduled WordPress website audits to ensure that all of the plugins and software installed on your site are operating smoothly. This also allows us to quickly identify, diagnose, and fix any technical glitches that may be impeding your website performance.
Professional Website Design and Development
WordPress provides all of the tools required to create a high-quality and easy-to-navigate website. Using those tools, our team takes a deep dive into your business model and creates a dynamic website that's unique to your brand.
SEO for Your WordPress Website
WordPress provides a number of tools and plugins that allow developers to easily integrate SEO practices into the design of a website. We can optimize your site by including keywords in the permalinks, creating insightful metadata, using appropriate themes, as well as enhancing written and visual content as needed.
WordPress Management and Maintenance
When building a new website or revamping an existing one, our web design team creates a staging site that allows our clients the opportunity to review the sample version. We'll quickly make changes and edits as needed and then provide a staging link for one final review before going live.
Content Writing Services
From top to bottom, we take the time to truly get to know your business, so that we can provide effective SEO and content development solutions. Researching relevant topics and crafting well-written formatted content pieces is just one of our many specialties.
Speed Optimization for Mobile and Desktop Devices
Website speed is one of the most important search engine ranking factors. Our team will regularly test the loading speed of your website and ensure that it's performing optimally across all devices.
Conversion Optimization
Increasing conversion rates is the ultimate goal of every website. Website building, maintenance, and management services from Numero Uno Web Solutions maximize your custom SEO strategies and create a positive online experience for all users to boost your conversion rates and make your site easier to find.
Why Choose Numero Uno Web Solutions for WordPress Website Design in Toronto?
Experienced and Skilled Professionals
With over 20 years of experience in the digital marketing realm, you can trust our SEO and web development experts to create and manage a high-performance website that exceeds your expectations.
Custom-Tailored Web Design
There are thousands of WordPress web design themes to choose from along with numerous plugins and tools. Using these resources, our web development team will create a website design that's just as unique as your brand.
Regular Support and Maintenance
Trust our team to provide ongoing maintenance services to keep your website operating smoothly at all times and prevent interruptions.
Consistent On-Time Service Delivery
Website support, maintenance, or updates are only a phone call or email away. If you have any questions or are having trouble accessing your WordPress account, our team will provide quick and easy solutions.
WordPress Website Design Services FAQs
Your website needs routine maintenance and design updates to keep it relevant and running smoothly. If you can't remember the last time your website design was updated or you've never changed it, then you definitely need a new website design.
Yes. Updating and optimizing your WordPress website design makes it easier for search engines like Google to crawl and index content on various webpages. This can improve your rankings and in turn boost web traffic and conversion rates.
There are a number of factors that dictate the cost of designing a WordPress website. At Numero Uno Web Solutions, we'll do our best to work within your budget and make your website design as affordable as possible without compromising on functionality and brand aesthetic.
Each web developer has their own unique design process, but the fundamental elements remain the same:
Discovery: researching and collecting data and analytics to give us insight into your business operations
Strategize: use the discovery data to create a unique sitemap that drives navigation and user experience
Creative design: involves conceptual user interface design
Staging: sample website on private platform that allows us to make changes and edits as needed before going live
Launch: this is a test period during which the website is launched on a private platform so we can assess its performance and fix any bugs before releasing it on a public platform
Ongoing maintenance: once your website is live, it requires constant monitoring and maintenance to facilitate traffic growth and consistency
Managed website hosting is an external service that essentially takes care of the administrative functions of your website.
The Accessibility for Ontarians with Disabilities Act (AODA) provides specific stipulations that ensure websites are accessible for people with varying physical, cognitive, intellectual, learning, hearing, and visual impairments.
Yes, we're fully committed to making the online space as easily accessible for all of our clients' customers as possible and are, therefore, well-versed with the AODA web design guidelines.
Contact us today to learn more about our extensive custom WordPress design services in Toronto.