Define
We listen to who you are as a company now before creating design solutions to take your company where it needs to go. A combination of research and imagination leads to a customized proposal based on your goals. We set a vision and plot out the design steps necessary to see that vision through to the end.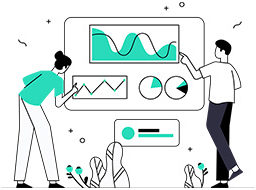 Design
Seeing is believing, and we use design to prepare all users landing on your page for the message your company will be sharing. Numero Uno unveils the substance of your company through only the best GUI practices and the latest design trends. From logos to banners, sliders and callouts, we maintain a visual style guide so your company's brand tells a consistent story no matter where your marketing is directed.
Build
In addition to creating eye-catching site designs, the user experience (UX) is our main focus when building a fully optimized website. At Numero Uno, we go through several checkpoints before any ideas move to the creation phase: Usefulness Accessibility Value Credibility Clearing these conditions ensures any visitors to your site are not only struck by the visuals, but they are able to seamlessly browse its pages and complete all desired actions. And this goes for everything from mid to large e-commerce sites to apps we have fully customized. Our designers are able to maintain this high level of UX whether users access your site through a laptop, smartphone, or any other mobile device out there.
Web Designing and Development Services FAQs
The amount of time required to create a high-quality web site with informative and engaging content depends largely on the current state of your web site as well as the type of work it needs. In our eyes, web sites need a lot of tender loving care to make them successful and increase the amount of traffic, conversion rates, and return on investment for our clients.
Our expert web developers will take the time to truly understand what our clients want to achieve with their web site revamps or new designs and deliver just that. We determine the cost of the web site design based on the amount and type of work that needs to be completed and always run preliminary analytics and tests to see how your existing web site is functioning. Once we've completed these determinations, we'll quote you a fair price.
Since our top priority is to create an unparalleled user experience for our clients' customers, we use only the most prominent technological features for our web creations. This includes CSS, Flash, XHTML, PHP, DHTML, XML, JavaScript, and a few others.
Yes, you can view your web site before it goes live. In fact, we highly encourage our clients to review any changes and additions we make to their existing web sites before we finalize them! In cases where we're constructing web sites from scratch, we always make sure to get approval from our clients before publishing anything under the brand.
Yes, we always provide complete colour mockups to our clients once the project is finished. We believe this is one of the most essential aspects of our job because we want to make sure that our clients are always satisfied with the work we produce. In the name of transparency, we advise our clients along every step of the web design process of the actions that are being applied to their web site.
Absolutely. Helping you rank higher on the top search engines like Google and Bing is one of our top priorities. It's the cornerstone of successful online marketing and we strategically utilize keyword, key phrases, and other important factors involved in strong SEO best practices.
Yes, we'll make sure that your web site is responsive and mobile-friendly because these are important factors in SEO.
Additional services we provide include SEO online marketing, web site maintenance, registering your domain, web site graphic design, print design, and social media marketing.