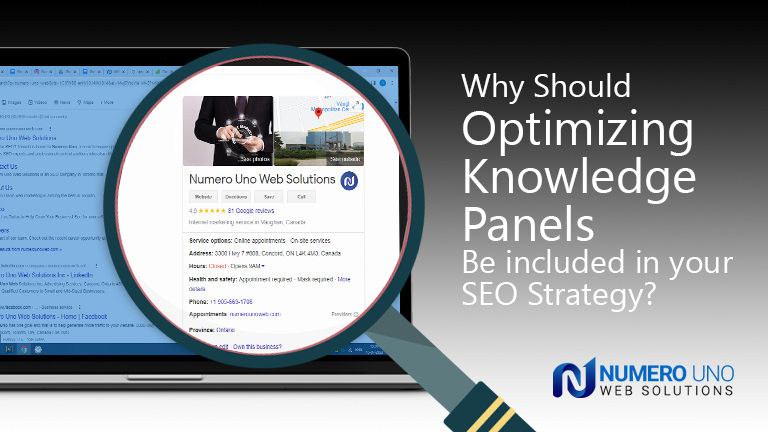 As a small business owner, you know that SEO is important to your success. But did you know that optimizing your knowledge panel can help improve your rankings as well? In this blog post, we'll take a look at why knowledge panel optimization should be included in your SEO strategy and how you can go about doing it.
What Is the Knowledge Panel?
The knowledge graph is a database of over 570 million entities and 33 billion facts that Google uses to better understand the relationships between people, places, things, and concepts. The knowledge panel is the box that appears on the right-hand side of the search results page that displays information about a particular entity. Depending on the specific topic, a knowledge panel may have a wide range of information, basic facts, images, and connections to other pages.
According to studies, approximately 76% of web users prefer page designs that make it simple to quickly access important information. The knowledge panel was created to assist Google's search engine results pages (SERPs) and to satisfy user expectations.
How Does Google Create Knowledge Panels?
Google creates knowledge panels by using a combination of algorithms and human curation. Google relies on both public sources (such as Wikipedia) and its own data to populate the knowledge graph. Google also relies on a team of curators to add and update information in the knowledge graph.
Google My Business (GMB) is the primary source of information for Google knowledge panels. Google pulls data from GMB to populate the panel and displays it prominently on the SERP.
Google uses the following information for the knowledge panel:
The NAP (Name, Address, Phone number) information
GMB photos, categories, and attributes
User-generated content, such as Google reviews
Data from third-party sources, such as Yelp
What Are the Benefits of the Google Knowledge Panel?
The Google knowledge panel is beneficial to both users and businesses. As the knowledge graph continues to grow, it's becoming an increasingly important part of Google's search algorithm. In fact, Google has said that the knowledge graph is one of the three main pillars of its search algorithm, along with links and RankBrain.
Optimizing your knowledge panel is a crucial part of the SEO journey!
Here are the benefits of optimizing your knowledge panel:
Improves Visibility: The Google knowledge panel helps businesses to improve their visibility on the internet. When people search for your business, your knowledge panel will appear on the right-hand side of the search results page, providing them with important information about your business and helping increase brand awareness and click-through rates.
Adds Authority and Trust: The Google knowledge panel also helps to add authority and trust to your business. It features the business information in a way that makes it look established and seems more authentic to the users.
Helps Generate Leads: When your business gets featured in the knowledge panel, it helps you gain visibility. The Google knowledge panel can also help you to generate more leads for your business. When people see your knowledge panel, they are more likely to visit your website or contact you for more information.
Helps with SEO: The Google knowledge panel can also help you to optimize your SEO. When you appear in the Google knowledge panel, it means that Google recognizes your business as an authority in your industry. This can help you to rank higher in Google's search results and make you stand out from your competitors.
Provides Quick and Easy Access: The Google knowledge panel helps users by giving them quick and easy access to the information they're looking for. The knowledge panel provides users with important information about businesses, people, and places without having to click through to another website. It helps also to improve the quality of search results.
 What Is Google's Local Knowledge Panel?
Google also provides a local knowledge panel for businesses with a physical location. The local knowledge panel includes important information about the business, such as the address, phone number, hours of operation, website, and photos. The local knowledge panel also includes customer reviews from Google and other sites.
The local knowledge panel is important for local SEO. It helps businesses to appear in the "Local Pack" section of Google's search results, which is the section of Google's search results that lists three local businesses for a particular search.
The local knowledge panel is also important for Google Maps. When a user searches for a business on Google Maps, the local knowledge panel will appear with the business information.
How Can You Optimize Your Website for Google's Knowledge Panel?
There are a few things you can do to optimize your website for Google's knowledge graph:
Add Schema Markup: Schema markup is code that you can add to your website to help Google understand your content. Google uses schema markup to create rich snippets, which are small pieces of information that appear in the search results.
Add Google Maps: Google Maps is important for SEO because it can help your business appear in the Google's local knowledge panel. You can list your business on Google Maps and embed Google Maps on your website to improve your keyword ranking.
Add Google My Business: Google My Business is a free listing service from Google. Google My Business helps businesses to appear in Google's search results and Google Maps by improving the visibility in searches and on the knowledge panel.
Add Google Reviews: Google Reviews are customer reviews that appear in Google's search results. Google Reviews are important for SEO because they can help your business to appear in the local knowledge panel.
Focus on Consistency: One of the most important things you can do to optimize your website for Google's knowledge graph is to focus on consistency. Make sure that the information on your website, such as your business name, address, and phone number, is consistent with the information on your Google My Business listing and Google Maps listing.
How Can Numero Uno Web Solutions Help You Optimize Your Knowledge Panel?
The Google knowledge panel can be an important part of your SEO strategy. As mentioned above, it can help you to improve your visibility and add authority and trust to your business. It can also help you to generate leads and optimize your SEO.
If you want your website to be found by users who are searching for specific information, make sure that your site is optimized for the knowledge graph and the knowledge panel. The experts at Numero Uno Web Solutions can help you get started with this type of optimization. We have years of experience in helping businesses achieve their desired results on Google. Contact us today to learn more about our services.