FAQ pages contain frequently asked questions that help visitors quickly find answers to their queries. Having an FAQ page can improve user experience and provide customers with more value. FAQ pages also provide a great opportunity for SEO optimization, as they often contain long-tail keywords which can help your page rank higher in search engines.
Optimizing an FAQ page can be a daunting task. There are many different ways to approach this project, and it can be difficult to know where to start. In this article, we will provide some tips on how to optimize your FAQ page, as well as some examples of successful pages to look at.
Different Ways to Optimize an FAQ Page
Every brand needs a Frequently Asked Questions (FAQ) page. Having an FAQ section on your website helps visitors find the answers they're looking for quickly and easily, improving their overall experience. Optimizing FAQ pages can have many benefits, including improving your SEO, targeting voice search queries, increasing your ranking in Google Featured Snippet/Answer Box, and reducing the number of support calls or emails you get.
Here are a few different ways to optimize an FAQ page:
Optimizing the FAQ Page for Content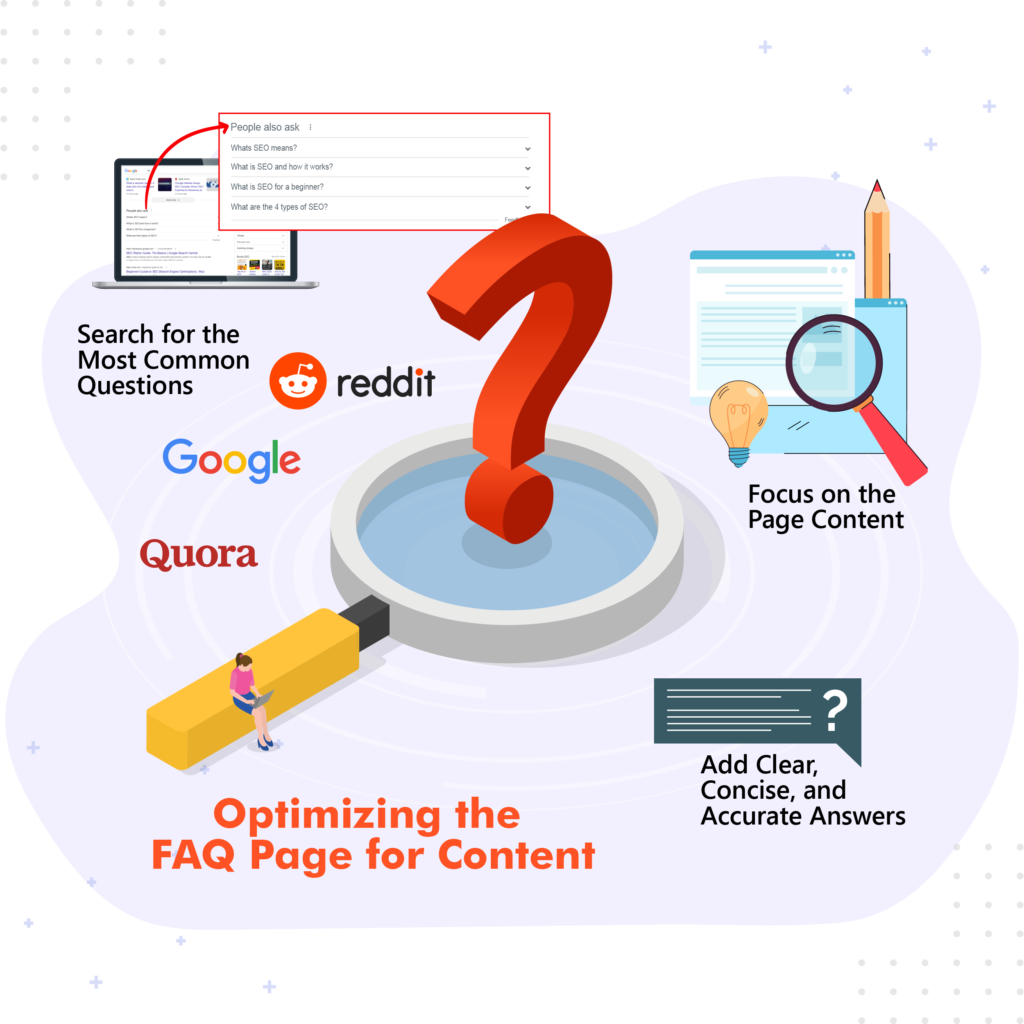 Search for the Most Common Questions: Analyze your website and customer data to determine which questions are asked most frequently. This will help you focus on FAQs that are important for customers and potential customers. Here are some of the platforms where you can collect the FAQs:
Check the "People Also Ask" SERP results and look at the questions that show up for certain keywords.
Search on Reddit, Quora, or Other Forums for potential questions.
Analyze chat logs and site searches to help you understand what customers are looking for.
Check with your sales and customer support teams to see what FAQs are most relevant for your customers.
2. Focus on the Page Content: Make sure your FAQ page contains relevant, unique and informative content that is tailored to the queries your visitors are looking for.
Think like your customers when providing solutions to their problems. Offer comprehensive and worthwhile solutions to these problems. Focus on the response to the question and don't include anything else.
Give clear and concise answers about products, services or businesses.
Give readers the information they need without going into unnecessary detail.
3. Add Clear, Concise, and Accurate Answers: Make sure your FAQ page is easy to read and understand. Provide clear, accurate answers to each FAQ and avoid jargon. Also, try to keep the FAQs as concise as possible.
Optimizing the FAQ Page for a Better User Experience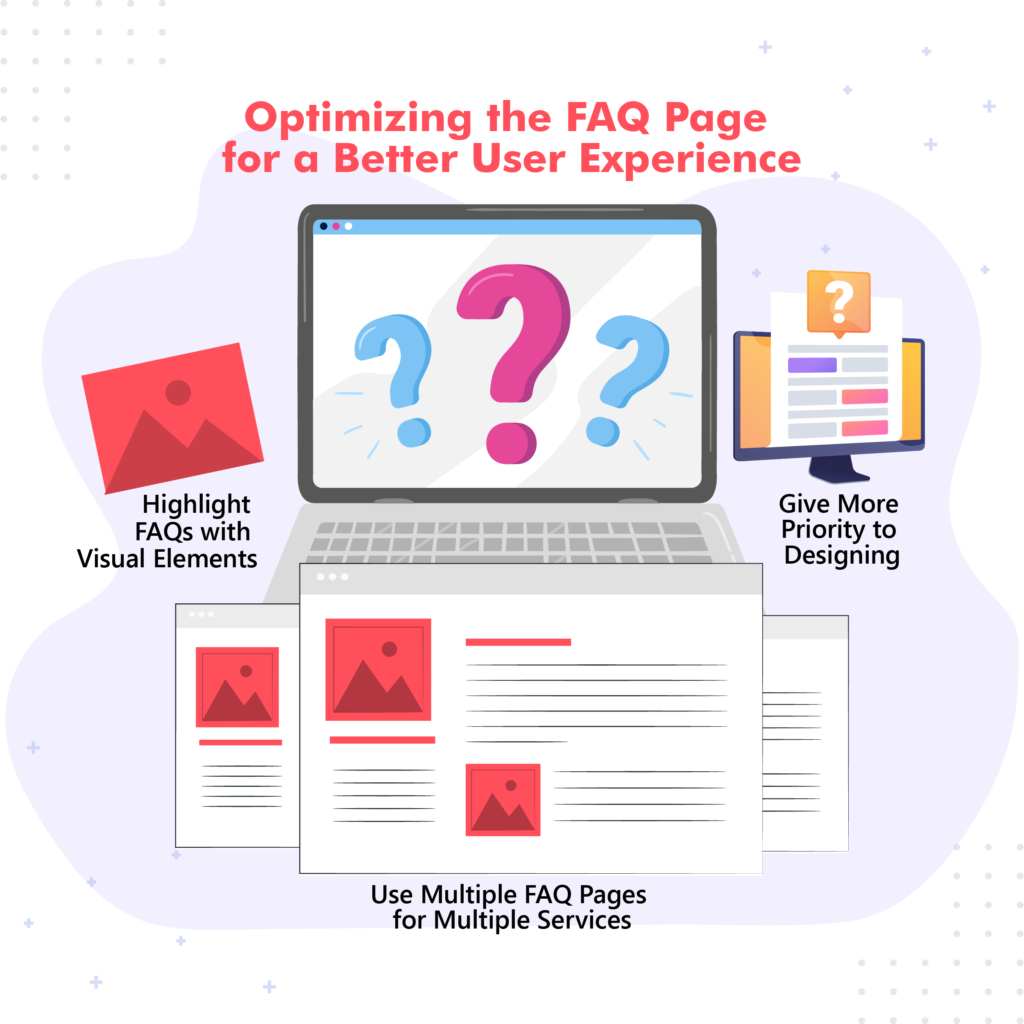 Give More Priority to Designing: FAQ pages should be designed to make it easy for users to find the answers they're looking for. Good design can also help you avoid FAQs that repeat information. Here are some points that you should consider when designing an FAQ Page:
Break down the FAQ section into sections and subsections, making it easy for users to navigate.
Organize questions by categories. Grouping FAQs into categories can help users find the right answers quickly. For example, if you have a FAQ page about Home Renovation Services, you can group FAQs into categories such as Living Room, Kitchen, Bathroom and other areas.
Add a search bar to the FAQ pages to help users find their answers quickly. This is especially useful if you have a large FAQ page with many questions and answers.
Use clear descriptive labels/tags with a simple design. FAQ pages should be simple and easy to use and give users a clear understanding of what they can expect.
2. Highlight FAQs with Visual Elements: Use visual elements like images, videos and infographics to highlight FAQs. This can make your FAQ page more engaging and easier to understand.
3. Use Multiple FAQ Pages for Multiple Services: One common mistake is to include every question on one FAQ page, making it impossible for customers to access the answers without scrolling endlessly. That is not only a bad UX (likely to lead to a high bounce rate), but it also misses out on SEO opportunities. Consider creating multiple FAQ pages for each service or product you offer so that customers can access the answers quickly and easily.
Optimizing the FAQ Page for Search Engines
Optimize Your Questions for Featured Snippets: Featured Snippets are a great way to optimize FAQ pages. They appear at the top of SERP results and provide direct answers to user queries. Here are some ways to optimize your content for the featured snippets:
Include an FAQ Schema Markup. This is a great way to optimize FAQ pages for search engine ranking. The FAQ schema markup can help search engines to understand the FAQ page content and provide a better user experience.
Target long-tail keywords and conversational queries. Long-tail keywords and conversational queries are more specific and target a smaller set of users. These keywords can help your FAQ pages rank higher in search engine results.
Google recommends FAQs that are between 30 and 50 words. This helps the search engine to identify FAQ content effectively and helps you rank on featured snippets.
When applicable, add step-by-step solutions to FAQs. This will make it easier for users to understand and follow the instructions.
2. Build an SEO-friendly FAQ page: Making FAQ pages SEO-friendly is key to optimizing FAQs for search engine rankings. Here are some points to consider:
FAQs can also be used as a way to create content sitemaps for FAQ pages. This will help search engines find and index FAQ pages on your website.
Make sure to include relevant FAQ keywords in the title and heading tags of your FAQ page. This will help search engines to identify FAQ pages quickly. Also, target money keywords in the questions.
FAQ pages should be organized using header tags. Using H1, H2 and H3 tags to organize FAQs into categories can help search engines to understand the FAQ page better.
Internal links are important for SEO, as they help search engines crawl and index your FAQ pages better. Adding internal links to FAQ pages can also help improve user experience.
3. Link FAQs to Other Pages: Linking FAQs to other relevant pages on your website can help search engines crawl and index FAQ pages better. This will also help users to find more information quickly. If you have created multiple FAQ pages for each service or product, link them to each of the main service or product pages.
4. Keep FAQ Pages Up to Date: It's important to keep FAQ pages up to date. FAQs should be updated with new content regularly, as this will help keep users engaged and can improve search engine rankings.
Examples of Exceptional FAQ Pages
Pinterest: https://help.pinterest.com/en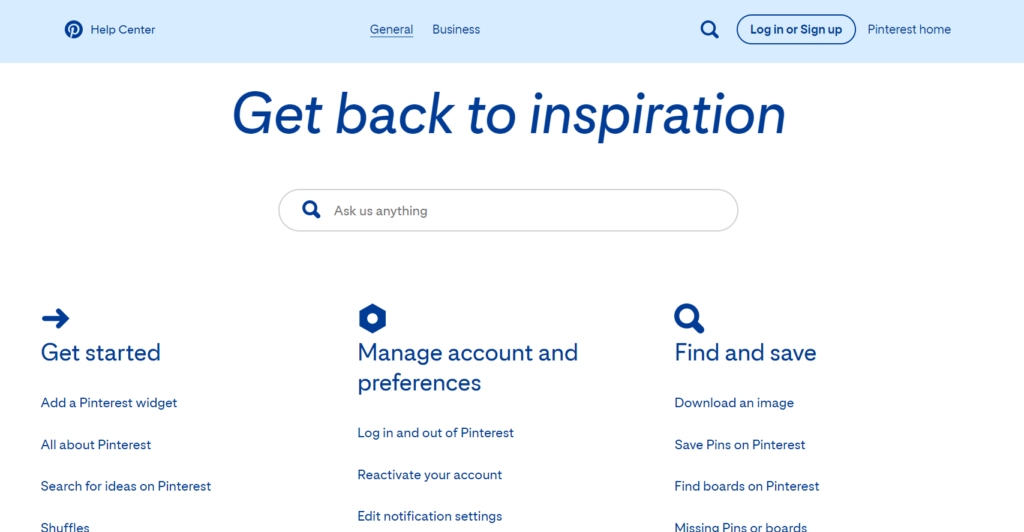 WhatsApp: https://faq.whatsapp.com/
Netflix: https://help.netflix.com/en
Contact Numero Uno Web Solutions for FAQ Page Suggestions and Implementations
By following these FAQ optimization tips, you can ensure that your FAQ pages are optimized properly for search engine rankings and user experience. With the right keywords, FAQ schema markup, and internal links, your FAQ page has the potential to rank high in search engine results.
No matter what stage your business is in, Numero Uno Web Solutions can help you create or improve your website so it's user-friendly and helps turn browsers into customers. Contact us today to learn more about how we can help you grow your online business.