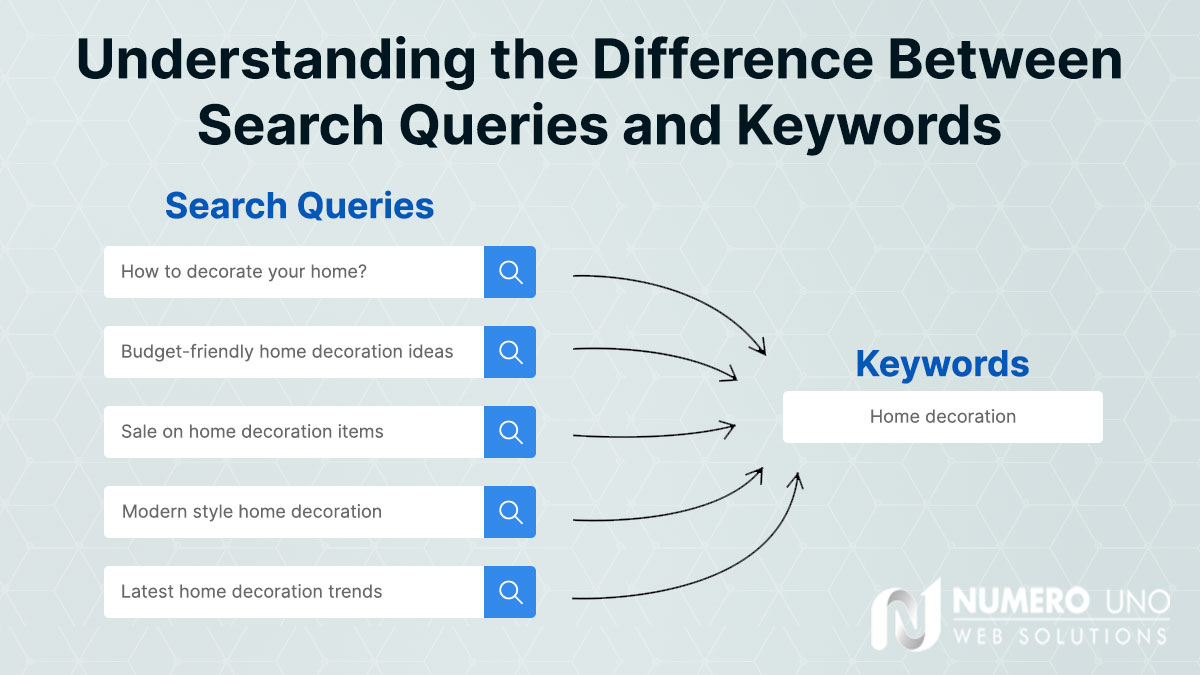 If you want to optimize your website for search engines, it's important to understand the difference between search queries and keywords. Search queries are the words and phrases people type into search engines, while keywords are the terms you use to describe your content or your website exactly.
While both search queries and keywords are essential for SEO, they serve different purposes. Below we explain the difference between these two terms.
What Are Search Queries?
A search query is an actual word or phrase that a person types into a search engine. For example, if you were looking for information on SEO, you might type the following query into Google: "what is SEO."
Search queries can be as long or as short as a person wants. They can be a single word, like "cat," or a phrase, like "how to train a cat." Search queries can also be questions, like "what is the best way to train a cat?"
Some other examples of search queries are:
How to decorate your home?
Budget-friendly home decoration ideas
Sale on home decoration items
Modern style home decoration
Latest home decoration trends
What Are Keywords?
Keywords are the terms that you use to describe your content. They help search engines index and rank your content in search results. For example, if you were writing an article about SEO, you might use the following keywords: SEO, Search Engine Optimization, and Web Marketing.
Keywords are the foundation of any search campaign. You prepare your paid search or organic marketing campaign based on these words or phrases. Keywords are the words or phrases for which you want your website to be seen on Google.
Some examples of keywords are:
Home decoration
Home decor products
Home decoration trends
Affordable home decor
How to Improve Your Website Performance and Optimize Keywords Based on Search Queries
To improve your keyword selection, use search queries. Search queries can help you understand what people are actually searching for and how those terms can be incorporated into your keywords.
Choosing the right keywords for your website can definitely level up your SEO game. Google Analytics, Google Search Console, and Google Searches are some of the free tools that can help you improve your keyword research.
In addition, here are some tips that can help you choose the correct keywords and optimize them on the website:
Research Keywords Considering Search Terms
Search for the terms that are most relevant to your business and products. The best place to start is with Google Search Console and Google Analytics.
Check your Search Console to see which terms people are actually using to find your website. This will give you an idea of the actual search queries that you need to target.
Use Google Autocomplete
Start with a short-tail keyword and then use Google Autocomplete to find related terms. This can give you some great ideas for keywords that you may not have thought of.
Google Autocomplete shows common and trending relevant words that are entered in Google searches mostly related to your location and intent based on previous searches.
Use Different Keyword Search Tools
There are a number of different keyword research tools available. SEMrush, Google Keyword Planner, KW Finder, SEMrush, and Moz Keyword Explorer are just a few of the most popular tools. These applications may assist you in discovering synonymous keywords that you hadn't considered.
Keyword research tools can be very helpful in finding the right keywords for your website. However, it's important to remember that the goal is to find keywords that are relevant to your content and that people are actually searching for.
Make a List of High-Value Pages on Your Website
Your website probably has a lot of pages. To improve your SEO and keyword research, you need to focus on the pages that are most valuable to your business.
To determine which pages are most valuable, consider the following factors:
The position of the page in the sales funnel
The conversion rate of the page
The traffic volume of the page
The keyword difficulty of the page
Optimize Your Pages for Target Keywords
Once you've identified your high-value pages, you can focus on optimizing those pages for your target keywords. To optimize a page for a certain keyword, you need to include the keyword in the following elements:
The title tags
The meta description
The H1 tag
The body content
The alt text
The title attributes
When you include a keyword in these elements, you're telling search engines that your page is relevant to that keyword. As a result, your page is more likely to rank in search results for that keyword.
Do Content Topic Research Based on Keywords and Search Queries
Keywords can give you an idea of what to write about, but search queries can help you understand the specific topics that people are interested in.
To find content ideas based on search queries, you can use the Google search console and Google trends. SEMrush is also one of the great tools that helps find trendy topics for your website content based on relevant keywords and search queries.
How Does Choosing the Right Keyword Help You Improve Website Performance?
The correct keywords are important for a number of reasons. First, they help you show up in the right search results. If you're targeting the wrong keywords, you'll never get the traffic you want.
Second, the right keywords can help you improve your click-through rate. When your listing shows up in search results, people are more likely to click on it if it's relevant to their search.
Finally, the right keywords can help you improve your conversion rate. When people visit your site, they're more likely to buy your products or services if they're looking for what you offer.
In short, choosing the right keywords is essential to improving your website's performance. With the right keywords, you'll get more traffic, more clicks, and more conversions.
How Can Numero Uno Web Solutions Help with Keyword Research and SEO?
Keyword research is an important part of any SEO strategy, so be sure to invest the necessary time and effort into finding the right keywords for your website. Contact Numero Uno Web Solutions today for help with your SEO needs. We can assist you in finding the right keywords for your business and optimizing your website accordingly. Call us today to learn about our services.