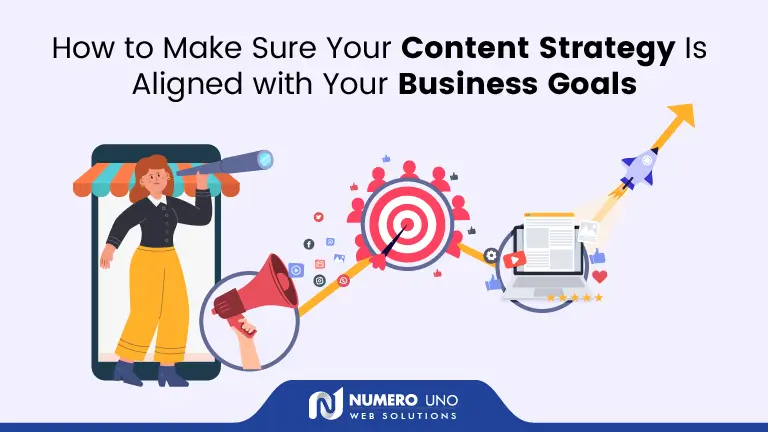 If you want your business to succeed, don't just post random blogs and social media updates—you need a real content marketing strategy that aligns with your business goals. This will enable you to target a specific, defined audience while also ensuring that the end result boosts your ROI.
Through this blog post, we will explain how you can make sure your content strategy is aligned with your business goals.
Why Should You Align Your Content Strategy with Your Business Goals?
As a business owner, it's your responsibility to ensure that your content is aligned with your business goals. This means understanding the goals you're contributing to and why they matter.
For example, let's say your business goal is to increase sales by 20% this year. But your content strategy only focuses on creating blog posts. Even if you have the best blog posts in the world, they're not going to help you increase sales if that's not what you're focusing on.
On the other hand, if your content strategy is focused on creating sales-oriented content, such as e-books, webinars, and email courses, then you're much more likely to see an increase in sales.
A holistic content strategy can help you achieve business objectives that seem unattainable, like boosting brand awareness or increasing your website's authority. Creating content without aligning it with business goals is like putting together a puzzle without knowing what the final picture will look like. You'll end up wasting time and money in the process.
Steps to Align Your Content Strategy with Your Business Goals
Below are some surefire ways to help you align your content strategy with your business goals.
Identify Your Business Goals
The first step is to identify the business goals you want your content to help you achieve. This can be anything from increasing sales to boosting brand awareness.
Some common business goals that content can help with include:
Increasing sales
Boosting brand awareness
Generating leads
Improving customer retention
We can further quantify the business goals by connecting them to trackable metrics, such as:
Receive 30 brand mentions or backlinks from websites with a DA of 40 or higher
Grow email subscribers by 30% each month
Increase organic traffic to 10,000 visitors per month within six months
Define Your Target Audience
Once you know what business goals you want to achieve, you need to identify your target audience. This will help you create content that appeals to them and reaches them where they are.
Some questions you can ask to help you define your target audience include:
Who are your ideal customers?
What are their demographics?
What are their interests?
What motivates them?
What challenges do they face?
It's important to remember that your audience isn't only made up of purchasers. Your target audience is simply the whole group of individuals interested in your topic. Your audience includes consumers, followers, and advocates who not only buy your products, but also promote your product/service/brand.
Research Your Audience's Content Needs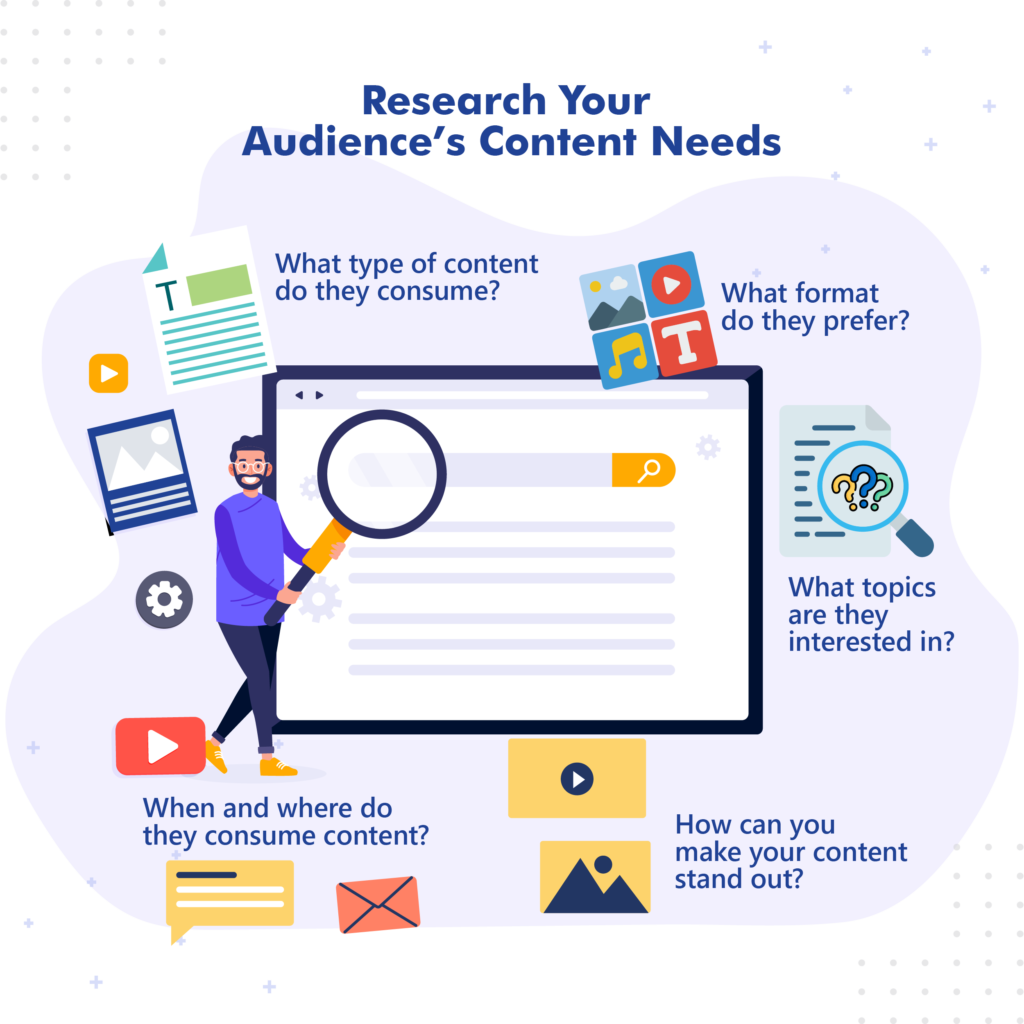 Once you know who your target audience is, you need to research what content they need. This will help you create content that is valuable and useful to them.
Some questions you can ask to help you research your audience's content needs include:
What type of content do they consume?
What format do they prefer?
What topics are they interested in?
When and where do they consume content?
How can you make your content stand out?
To break it down further, there are two main ways to better understand your audience's interests:
Keyword Research: By conducting keyword research, you will identify both popular keywords that can generate traffic to your website as well as underused keywords which you can target and rank for quickly. While researching, make a note of any patterns or groups of topics your target audience is most interested in. A competitor keyword and content analysis tool like SEMRush can help you find the successful keywords that are being targeted by your competition.
User Intent: The goal and intent of a searcher will influence whether your customer stays to read your content or clicks "back" to the search engine result page (SERP) to find a different solution. To rank high on search engines, you must create content that closely matches user intent. In other words, your title should accurately reflect what users are looking for when they type a certain query. By trying to fulfill what the user seeks closely, your content has a higher chance of ranking well. The easiest approach to determining user intent is to look at the highest-ranking content in search engines. This will assist you in determining the sort of material you should produce.
Develop a Content Strategy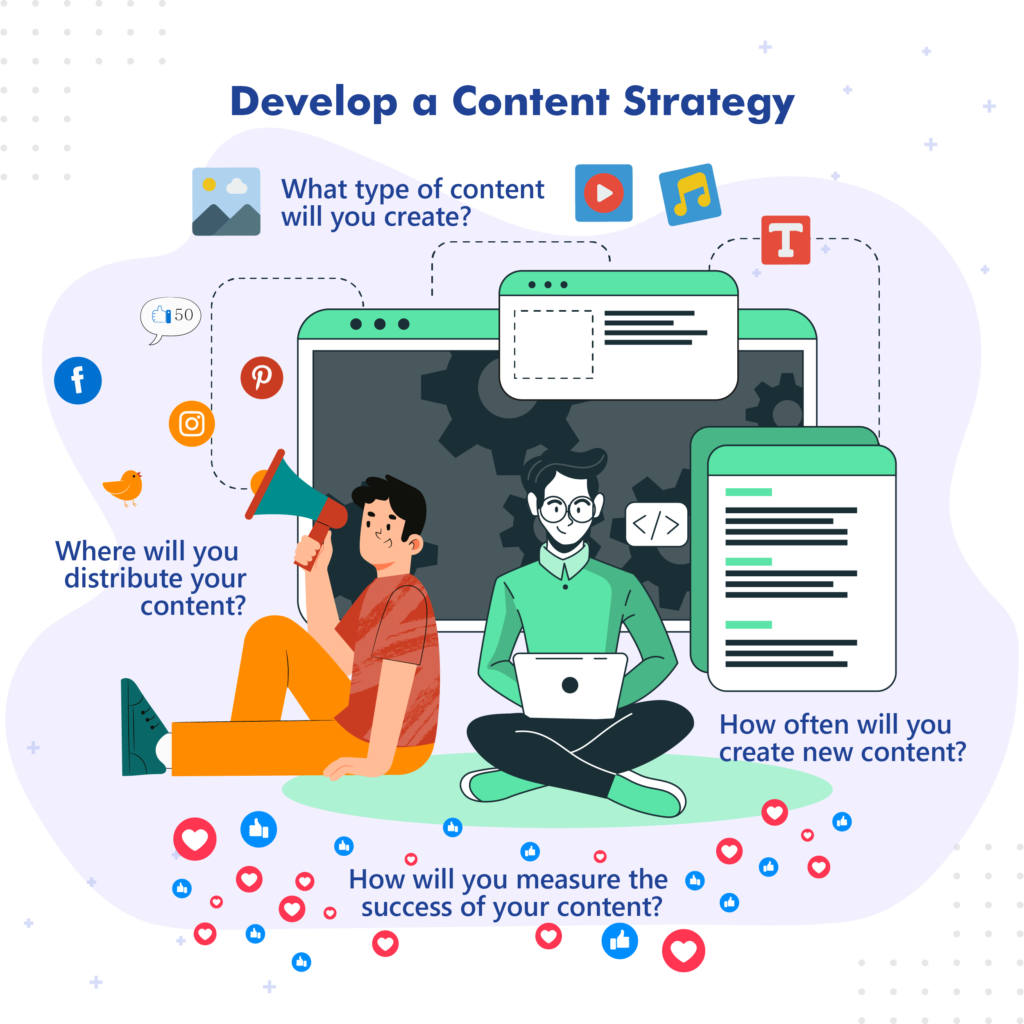 Now that you know your audience and what content they need, you can develop a content strategy. This will help you determine the type of content you need to create, how often you need to create it, and where you need to distribute it.
Some questions you can ask yourself to help you develop your content strategy include:
What type of content will you create?
How often will you create new content?
Where will you distribute your content?
How will you measure the success of your content?
Creating a content strategy that is aligned with your business goals is essential to achieving success. By taking the time to understand your goals, research your audience, and develop a content strategy, you can ensure that your content is working hard to help you achieve your business goals.
Contact Numero Uno Web Solutions to Create a Successful Content Strategy for Your Business
As a leading SEO company, Numero Uno Web Solutions is proud to offer its clients world-class content creation services. Our team of expert writers and editors can help you create content that is valuable and useful to your target audience. Contact us today to learn more about our services or to request a free quote.