SEO Services for Small and Medium Businesses in Toronto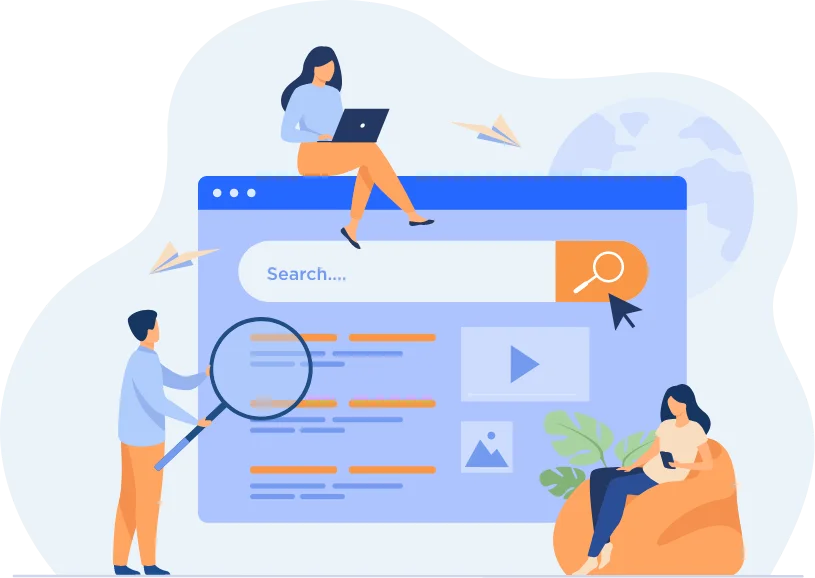 Take Your Business to New Heights
Facing tough competition in the market? With Numero Uno SEO Solutions, your struggle ends here. We provide tailored SEO services for small and medium businesses in Toronto, helping you bridge the gap and stand tall alongside industry giants.
Our data-driven SEO solutions empower your business to:
Achieve higher search visibility on major search engines.
Attract more potential customers to your website.
Generate more leads and fill up your sales funnel.
Start outsmarting your competition, instead of outspending them. With Numero Uno SEO Solutions, let's put your business on the map together!
Your SEO Strategy, Tailor-Made
We don't believe in one-size-fits-all solutions. Here, we focus on targeted and customized SEO strategies that rest on four essential pillars:
Keyword Research: Uncover untapped opportunities to drive more relevant traffic to your site.
Website Optimization: Direct that traffic effectively through your sales funnel.
Optimized SEO Content: Convert those potential leads into loyal customers.
Link Acquisition and Citation Building: Expand your SEO footprint across the web for a broader reach.
Ready to see how your site measures up? Try our FREE Pre-SEO Audit Report to see where you stand and plan your path forward.
Our SEO Process: Clear, Effective, and Customer-Friendly
Your SEO journey with us is a straight road to success. Here's how it unfolds:
Information Gathering: We dive deep into your business, customers, market, and competitors to tailor our strategy to your unique needs.
Website and Market Analysis: We assess your current search visibility, revealing gaps and opportunities to power your SEO strategy.
Identify SEO Strategy: We tailor an SEO strategy based on the insights we've gathered, setting clear objectives for your SEO campaign.
SEO Plan Execution: We roll out a comprehensive SEO plan, targeting your key objectives.
Performance Measure: We closely monitor key metrics to continually optimize your SEO campaign.
Performance Reporting: With regular, easy-to-understand reports, you'll always know where your campaign stands.
Ready to dive deeper? Contact us to learn more about our flexible SEO packages.
Why Choose Numero Uno? Here's Why.
White-Hat SEO: We strictly follow search engine guidelines, protecting your business from future penalties.
Expertise: Our seasoned SEO pros have weathered all kinds of search engine updates and changes.
Long-Term Outlook: We view SEO as a marathon, not a sprint. Our strategies are built for sustainable growth.
Brand-Centric: We make sure your brand visibility grows hand-in-hand with your search visibility, maintaining your brand's image.
Cited and Linked: We extend your visibility beyond search engines, making sure your business gets noticed across various third-party sites.
Are you ready to start your winning SEO campaign? Contact Numero Uno Web Solutions today!
Customized SEO Solutions by Industry
Legal
Lawyers and Law Firms
Bail Bonds Companies
Finance
Mortgage Brokers
Asset Management Firms
Financial Advisory Firms
Health
Fertility Clinics
Plastic Surgery Clinics
Retirement Homes
Rehab Centers
Family Therapists
Dental Clinics
Travel and Tourism
Resorts and Hotels
Country Cottage Rentals
Wellness Tourism
Home & Real Estate
Landscape Contractors
Window and Door Contractors
HVAC Contractors
Fence Builders
Roofing Companies
Home Builders
Pool Building and Maintenance
Golf Courses
Food and Drink
Local Bakeries
Restaurants
Supply Chain & Retail
Third-Party Logistics (3PL)
E-Commerce Fulfillment
Warehouse Management
E-Commerce
Learning & Recreation
Dance Studios
Summer Camps
Online Classes
Tech
Others
Animal and Bird Control
Career Counselling
Engineering & Manufacturing
Florists
SEO FAQs Answered: All Your Questions, Addressed in One Place
SEO stands for Search Engine Optimization. It's a digital marketing strategy that involves optimizing your website, so it ranks higher on search engine (Google, Bing, etc.) result pages (SERPs). Higher rankings mean more visibility, increased website traffic, and ultimately, more customers. In today's digital age, SEO is crucial for businesses to stay competitive online.
SEO is not an overnight process. It requires patience and consistent effort. Generally, it can take anywhere from 3 to 6 months to start seeing significant results, depending on the competitiveness of your industry and the current state of your website. Remember, SEO is a long-term strategy, but the results are worth the wait.
Organic SEO refers to non-paid efforts to improve your site's rankings in the search results. This includes strategies like keyword optimization, link building, and improving site usability. Paid results, on the other hand, involve paying to have your site displayed in the "sponsored" section of the SERPs.
At Numero Uno, we use a multitude of advanced tools and techniques to identify the optimal keywords for your business. Our approach goes beyond just relevance and search volume. We delve into the intent behind search queries, ensuring we target keywords that match the needs and behaviours of your potential customers.
In addition to traditional keyword research, we also consider the rise of voice search. With more and more people using digital assistants like Alexa, Siri, and Google Assistant, we optimize for conversational keywords that reflect how people actually speak.
Last but not least, we understand the power of local SEO. Especially for small and medium businesses, local keywords can be a game-changer. We identify location-specific keywords that help attract customers right in your neighbourhood, boosting your visibility where it matters most. Our comprehensive keyword research strategy is designed to put your business in front of the right audience at the right time, ultimately driving more traffic and leads to your site.
As an ethical SEO company, we don't guarantee #1 rankings. Search engine algorithms are complex and change frequently, which means rankings can fluctuate. However, we do promise to use best practices and proven strategies to improve your visibility and increase your chances of ranking highly.
Absolutely. We strictly adhere to "White Hat" SEO practices, meaning we stay within search engine guidelines, ensuring your site doesn't risk any penalties now or in the future.
We track various metrics to measure the success of an SEO campaign. These include your website's organic traffic, rankings for specific keywords, the number of leads generated, and more. We provide regular reports so you can see how your campaign is performing.
Still, have questions? Contact us today! We're here to help and guide you on your SEO journey.