When it comes to finding the right retirement home or community for an elderly loved one, an increasing number of people are performing critical online research to weigh all of their options, compare costs, and schedule virtual or in-person tours. Family members, friends, and personal caregivers want to make sure that their elderly loved ones and charges are able to continue living their best lives while receiving high-quality care.
Performing thorough online research is an important part of the process because it reveals a significant amount of information such as what services are offered, what the retirement homes are like, meal plans, and personal reviews from past or current customers.
Proper SEO (search engine optimization) for retirement homes can help boost your business's website traffic through increased online visibility. It can also help strengthen your conversion rates simply by getting more online users directly to your website.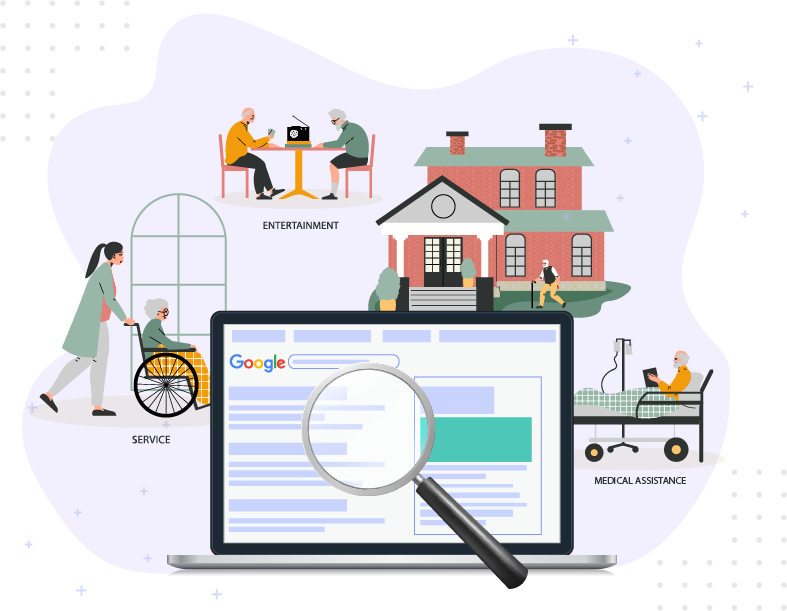 Create Dynamic Content
There's a well-known saying in the search engine optimization industry: "Content is king".
Well-crafted and informative content is the cornerstone to attracting more people to your website. Content does so much more than simply fill in the blank spots on your website. It provides users with the information they're looking for. It tells the story of your business in the "About Us" section. Content educates your would-be customers and convinces them that your retirement home or community is the right choice for their elderly loved ones.
Including the right subheadings throughout your content can also help increase your search engine rankings and visibility, which in turn generates more leads to your website.
However, generating leads isn't enough.
Converting those leads into paying customers is the real challenge. By filling your website with unique, informative, and easy-to-follow content, you can qualify those leads and convert them into paying customers.
It's important to keep in mind that content constitutes so much more than just text. Content can come in many different forms including videos, images, infographics, blog posts, reviews, testimonials, personal case studies, FAQ pages, staff bios, and so much more. Anything you include on your website is considered content. Just make sure it's properly optimized to achieve positive results.
SEO Tips for Retirement Homes
At Numero Uno Web Solutions, we've worked with a number of retirement homes across North America to help them build up and maintain strong online presences. In the process, we've noticed that there are a few factors that play a big role when it comes to successful SEO for retirement homes.
Based on our experience in the industry, here are a few tips for establishing a solid SEO strategy for your retirement facility.
Use Keywords and Phrases That Are Related to Senior Living
As previously mentioned, your content allows you the opportunity to include valuable high-ranking keywords throughout your website. But those keywords are useless if people aren't actually searching for them. As an industry expert, you probably already have a few ideas of what keywords may or may not be related to senior living.
Performing comprehensive keyword research is the best way to ascertain that your content is keyword-optimized. Use Google AdWords Keyword Planner to find out which keywords are ranking high in the senior living industry and which ones people are actually searching for.
Focus on Local SEO
Prominent research has shown that location-based long-tail keywords have the most impact in terms of attracting people to local businesses. Keywords that have high search volumes and contain local identifiers increase your chances of gaining visibility in your area. After all, people searching for retirement homes or senior living services most likely want something within close proximity to them. For instance, you could include keywords like "retirement home Toronto" or "senior living community GTA" and these will generate more local website traffic.
If you want to get even more specific, you could also create special landing pages or static pages for each location you want to target. We suggest using a combination of long-tail keywords that your target audience are likely to search for as these are generally less competitive and more likely to get you high-quality leads in your area.
Content Optimization
Let's revisit the notion of content being king for a moment. Why is that? Content adds substance and information to your website. It lets people know exactly who you are, what you're offering, what makes you stand out, and how they can contact you. Content optimization includes adding industry-related keywords, backlinks, meta tags, title tags, and relevant links to establish yourself as an industry authority.
High-quality content is important because it leaves a lasting impression on people and keeps them coming back for more.
More importantly, content engages users and encourages them to interact positively with your website by making purchases, booking appointments, or contacting you directly. Search engines take note of this activity and use this data to impact your website ranking. Websites with a lot of positive interactions get ranked higher than those with high bounce rates. Of course, some content on your website will inevitably rank higher than others.
Website Optimization
Website optimization is important because it makes it easier for people to find the content they're looking for and increases conversion rates. A well-designed and organized website should be fast loading (less than three seconds), responsive, and include contact forms throughout, so people can easily reach out to you.
Outsourcing SEO for Retirement Homes in Canada
You can trust the SEO experts at Numero Uno Web Solutions to help you build and maintain a strong online presence that generates quality leads and increases your conversion rates. Our results-driven and proven SEO strategies can help you connect with numerous online users who are looking for local senior living services and retirement homes. Contact us today to learn more about our services.