The logistics and trucking industry has become more competitive than ever before. With an increasing number of e-commerce businesses relying on supply chains to deliver their products to end-customers, it's easy for your logistics operation to get lost in all the white noise. How can you make your organization stand out from all of the others that are just like it in your industry and vying for the same clients? The answer is simple. You need a solid SEO strategy for your logistics and trucking company.
Working with Numero Uno Web Solutions is the right choice.
We offer extensive SEO for logistics services and trucking companies that are guaranteed to elevate your digital marketing efforts to unprecedented levels of success.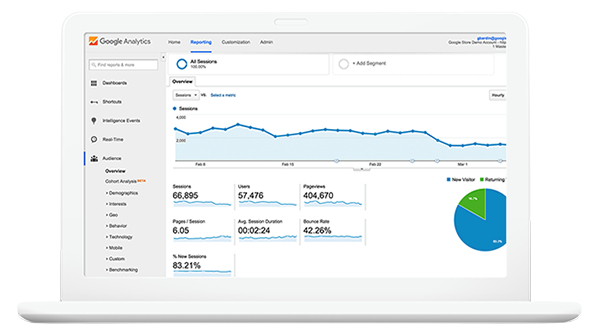 How SEO Can Help Logistics and Trucking Companies
Search engine optimization (SEO) is one of the most effective means of getting your brand and company name out there. If you want to become an industry-renowned and well respected leading organization in the supply chain industry, then you need to make a big mark in the digital marketing space. That's how it is in virtually every modern industry that exists.
Whether you're a B2B or B2C business, the fact is that you need to make it as simple as possible for your target audience members to find you. Since the majority of people searching for specific services and products conduct their searches online, then that means you need to not only be a visible presence online, but you need to dominate the online space. Starting with local SEO for logistics solutions and working your way into the international market, digital advertising is the most effective way to make a name for your organization and earn a top-ranking position as a trusted authority figure in your industry.
Here's how we can help you do just that:
Increase Online Visibility
There are several effective digital marketing strategies you can use to increase your online visibility and secure top-ranking positions on search engines such as Google, Yahoo, and Bing. Through relevant content creation, a strong social media presence, and a fully optimized website design for your logistics services and trucking company, you can easily increase organic traffic to all of your online platforms. Organic traffic is when users find your website or online content because it matches their keyword search criteria.
Another effective method of increasing your online visibility is by incorporating pay-per-click (PPC) advertising for logistics solutions and trucking companies. These are paid ads that appear at the top of search engine results pages (SERPs) when users search for matching keywords. Google prioritizes the top-ranking ads based on specific criteria including whichever company offers the highest bid and the quality of the ad. With PPC ad campaigns, you only have to pay for the ads when people click on them, hence the name.
Free Traffic
Organic traffic is also referred to as free traffic because you don't have to pay for any advertisements to drive traffic to your website. You simply have to create and generate top-quality relevant content that appeals to your target audience or demographic. At Numero Uno, we specialize in content marketing for logistics and trucking companies. Our team of expert web developers and content creators will optimize your website and generate custom-tailored industry-relevant content that drives up your website's organic traffic without increasing bounce rates.
Through targeted SMO (social media optimization) for the transportation industry, we can also create effective social media content and advertisements that are guaranteed to attract only the most qualified leads and users that are most likely to convert to paying customers. Regardless of the platform your content appears on, the ultimate goal is always the same: to drive as much traffic directly to your website as possible. This is the key to increasing your monthly conversion rates and we can help you reach and even exceed your metric goals.
More Customers and Leads
An effective logistics and trucking digital marketing campaign is designed to generate as many quality leads as possible. Qualified leads will click-through to your website and are more likely to convert into paying customers than unqualified leads, which results in reduced bounce rates and higher revenues for your business.
Brand Awareness
The key to increasing brand awareness is to get your logistics solutions and trucking company marketing campaigns on as many platforms as possible. Whether it's social media, content marketing for logistics solutions, online directories, or affiliate sites, expanding your company's outreach will inevitably boost your rankings due to positive mentions.
Other Digital Marketing Strategies for Logistics and Trucking Companies
Numero Uno Web Solutions provides a wide range of effective SEO, SMO, and web development services for the supply chain industry. Our effective digital marketing campaigns aim to inform your existing and prospective clients about the services you offer while also highlighting the attributes of working with your company. Here's how we do it:
Google My Business Optimization for Logistics Services
Google My Business (GMB) optimizing for logistics solutions is a pivotal step in building a strong online presence. You should include as many relevant keywords and phrases in your GMB business profile as possible to increase rankings. Your business knowledge panel should also include pertinent information like a link to your website, directions to your nearest business location, hours of operation, contact information, and more. All of these are top-ranking factors that can boost your online visibility and secure more paying customers.
SMO for Logistics and Trucking Companies
Social media is one of the most effective and reliable formats for keeping customers and followers updated on important events in your business and industry. It also allows you to answer user inquiries directly and quickly, giving you more control of your online public reputation.
Content Marketing for Logistics Solutions
Effective content marketing should be aimed at driving up organic traffic by strategically incorporating relevant keywords, website design elements, and timely industry-related topics. Our team performs extensive research to make sure you're always at the top of your game.
PPC for the Logistics and Trucking Industry
PPC is another effective digital marketing tool that can be used to increase your online presence, visibility, and brand awareness. It's the equivalent of purchasing a coveted newspaper ad back in the day. The highest bidder gets the top-ranking position on SERPs.
Website Design for Logistics Services
All roads lead to your website. To ensure your website is efficient and easy to navigate, it should tick off the following boxes: mobile-friendly, fast loading times, visual branding, and sufficient white space.
How Numero Uno Web Solutions Can Help Logistics and Trucking Companies Grow
Keyword analysis and suggestions
Using Google Analytics, we'll perform thorough keyword research and present you with a shortlist of the top-ranking keywords in your industry.
Optimize website design for desktop and mobile
Starting with an in-depth site audit, our team will identify points of improvement for your website and create a custom-tailored content marketing and SEO strategy for your business.
Create quality content
This includes blog posts, articles, FAQs, landing pages, static pages, images, SMO, service pages, and other optimized content.
Optimize featured snippets
Featured snippets are short tidbits of information that appear in web content and directly answer commonly asked questions. Formatting content in a question-and-answer format helps it rank better on Google, specifically in the People Also Ask (PPA) section.
Optimize GMB listing
We'll manage your GMB listing for you by adding relevant keywords, categories, and making necessary updates.
SEO for Logistics and Trucking Companies FAQs
Local SEO for logistics solutions can help increase your online visibility, search engine rankings, and reputation as a front-running trustworthy authority figure in your field. When you invest in SEO for truckload transportation, you're investing in building a strong and secure online presence for your business. In other words, this is an important investment that propels the future longevity of your business.
Search engines like Google use keywords to match search results to search queries. High quality content that contains the closest match to the search query is likely to rank higher than content that doesn't.
Competitor analysis allows businesses to evaluate the efficacy of the online marketing and SEO strategies used by other companies in their field. It allows you to identify which strategies and elements you should consider applying to your own digital marketing campaigns.
Google reviews play an important role in online brand reputation management. They reveal what customers think of your business. Negative reviews are just as valuable as positive reviews because they present you with an opportunity to showcase your problem-solving skills and rectify bad experiences.
We do a lot of industry-based keyword and topic research to ensure that all SEO content copy is topical and relevant to your business. All content ideas and articles are pre-approved by our clients before getting posted on their website, social media, or GMB accounts.
That depends on how much you're comfortable spending for an effective SEO and digital marketing campaign. Consider the scope of the markets and demographics you want to reach. We have a variety of competitively priced digital marketing packages for you to choose from.
If you're interested in learning more about how our SEO solutions can help you grow your logistics and trucking company, please feel free to contact us today.