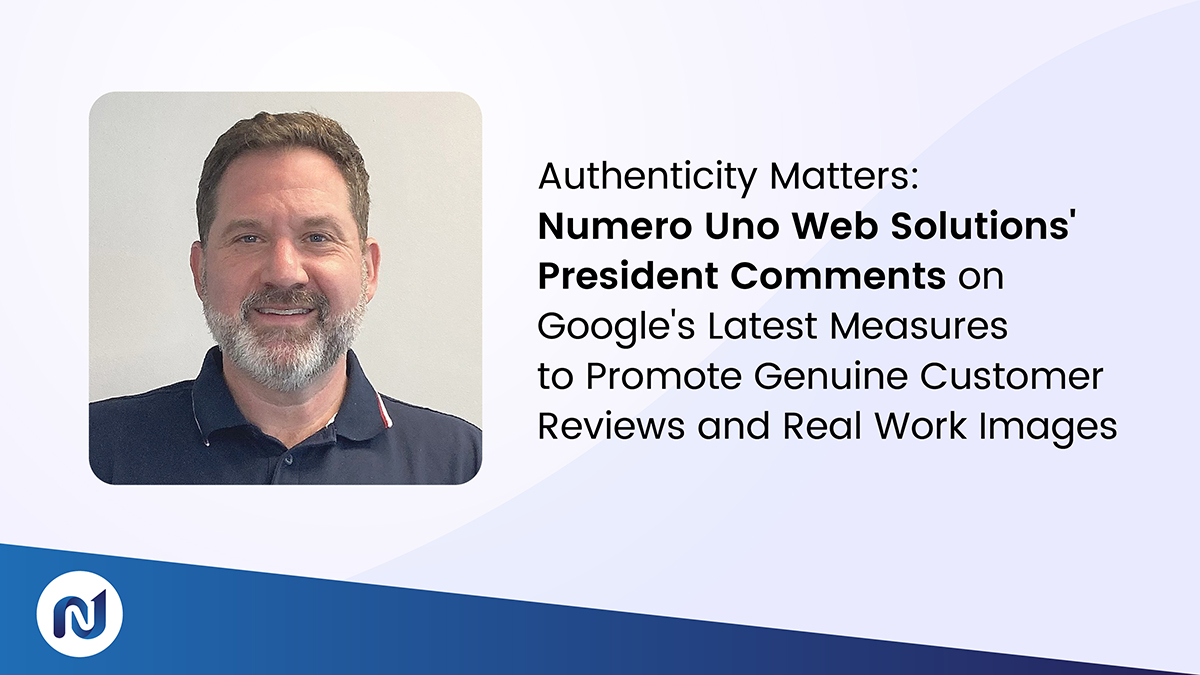 TORONTO, ON – June 1, 2023 – Adrian Newman, President of Numero Uno Web Solutions, comments on the importance of genuine customer reviews and authentic work images following Google's recent update to its machine learning systems.
Google has significantly enhanced its ability to detect and remove fake reviews and fraudulent content, emphasizing the crucial role of authenticity in online interactions. According to Newman, "Today's consumers demand transparency from businesses, with real customer reviews and authentic work images playing a critical role."
"82% of consumers read online reviews for local businesses, with more than half of younger consumers always checking reviews. The importance of real, reliable reviews cannot be overstated," Newman states.
In 2022, Google's systems removed over 200 million photos, 7 million videos, and blocked or removed over 115 million reviews, marking a 20% increase compared to the year prior. Newman believes these figures represent Google's commitment to creating a trustworthy online environment for both users and businesses.
"In a digital marketplace rife with misinformation, authenticity becomes a differentiating factor," Newman says. He continues, "Businesses can foster trust and engagement among clients by actively encouraging real customer feedback and showcasing authentic representations of their work."
There are numerous examples across industries, with businesses effectively leveraging genuine reviews and work images. From local bakeries sharing high-resolution images of their baked goods to dental clinics offering insights into their clean facilities, these strategies serve to build trust and rapport with consumers.
Ultimately, Newman advises businesses to recognize the increasing significance of genuine customer reviews and real work images. "The path forward involves aligning business practices with authenticity and honesty—traits highly valued by today's consumers," he says.
About Numero Uno Web Solutions
Numero Uno Web Solutions is a leading provider of digital marketing strategies, catering specifically to small- and medium-sized businesses. The team, led by President Adrian Newman, is dedicated to providing effective and affordable solutions to help businesses navigate the ever-changing digital landscape.
Media Contact:
Numero Uno Web Solutions
Adrian Newman, President
a.newman@numerounoweb.com
www.numerounoweb.com