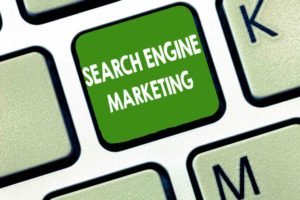 Search engine marketing is a vast concept that's ripe with numerous different strategies that might work for some companies, but not necessarily for others. Sometimes it can feel like finding a winning combination of the right online marketing strategies for your small- or medium-sized business can be a bit of an enigma. So, how can your brand stay ahead of the curve without getting trampled on? By combining the merits of both Pay Per Click (PPC) and Search Engine Optimization (SEO), you can get the best of both worlds.
What Is PPC and What Is SEO?
PPC is a paid online advertising model wherein brands essentially purchase ad space on search engine results pages (SERPs) to improve their rankings. The idea is to drive more traffic to a brand's website by monetarily increasing website visibility. Advertisers pay for every click their website receives and in return, they reap the benefits of potential conversions.
SEO has the same goal in mind, but it omits the use of paid advertising. Instead, the aim is to organically increase ranking, visibility, website traffic, and conversion rates by simply producing high-quality, well-researched, and targeted content that contains strategically placed keywords.
Separately, these two marketing strategies have great potential to increase website visibility. But when they're used in conjunction with one another, they have the potential to render unparalleled results for your website. Here are a few benefits of combining PPC and SEO for your small business marketing campaign.
Double Your Brands Online Visibility
According to Google, using both PPC and SEO for your small business marketing campaign can increase your visibility by about 50% or more. This is because the same website result will automatically occupy two ranking positions on the SERP, even if the organic result appears a few tiers lower. At the very least, seeing your paid ad campaign in a top-ranking position will capture your audience's attention. Then, seeing your brand name appear a second time on the same page as an organic search result will pique their interest even more and possibly even encourage them to click onto your website. Ultimately, the goal is to get the click one way or the other.
Improve Conversion Rates
Once you have the click, your next priority should be to convert it into a sale and that's where high-quality content comes in. The content on your website should fulfill the promises made in your PPC or SEO campaign. Otherwise, users will eventually get frustrated and leave, which will be reflected in your website's bounce rates. It's important to closely monitor your website analytics so that you can gain a full understanding of which campaigns and content pieces are working the most effectively and which ones need to be revised or removed altogether.
Make sure that the landing pages users are being directed to are relevant to the results that appear on SERPs. That way, users can find exactly what they're looking for and are more likely to make a purchase.
Keyword Data Sharing and Testing
Keyword research is a pivotal component of having a successful online marketing campaign, regardless of whether you're using PPC, SEO, or both. Strategically peppering your content with relevant keywords makes it easier for search engines like Google, Yahoo, and Bing to crawl your website for relevant content that pertains to user inquiries. With that in mind, however, try to avoid what's known as "keyword stuffing" in the online marketing industry.
There's nothing more frustrating and off-putting for users than being directed to a link that contains low quality and often irrelevant content that was only suggested because of misplaced and misinterpreted keyword placement. As always, content is king and the quality and accuracy of the information you're presenting to users is vital to the success of your online marketing campaigns. You can measure these results by keeping a close eye on your website analytics as well as reviewing online user comments about your business.
Use Best Performing PPC Ad Copy to Generate Organic Content
Performing relevant keyword and content research will give you a good idea of what type of content is working the most effectively on your website. In fact, you should be constantly monitoring your PPC ad copy analytics as a measure of how successful your organic content will be. Online marketing strategies the incorporate both PPC and SEO should have these mediums complementing one another, not working in opposition with each other. In other words, there needs to be consistency between both campaigns, otherwise neither one of them will be successful. If something isn't working in your PPC campaign, then it's not likely to succeed in your SEO campaign either. Essentially, you should be modelling your organic content strategy after your successful PPC campaigns.
Advertise Your Products and Services
To increase your website revenue, you can actually purchase ad space on SERPs to advertise your products and services. This is a great addition to your PPC campaign because it not only increases your ranking, visibility, and brand awareness but it also highlights your products and services by directing users to product and service pages where they can learn more and make purchases.
Gain and Leverage Social Media Visibility
Branded social media pages are almost akin to having a website nowadays. Various social media platforms like Facebook, Twitter, and Instagram can be used to help you gain greater visibility in unparalleled ways. You can sponsor social media influencers who will in turn create branded content on your behalf and share it with their millions of followers or you can create targeted advertisements that are specifically designed to reach out to your desired demographics based on their previous searches, likes, and pages they follow. This is all information you can use to your advantage to help you reach out to online users with the highest purchasing potential.
Need help creating a sound PPC and SEO strategy for your small- or medium-sized business?
Numero Uno Web Solutions can help you establish and maintain a strong online presence by creating high-quality optimized content for your website in tandem with effective PPC ads. We've worked with numerous companies across North America to help them improve their online visibility, SERP rankings, and overall ROIs. Contact us to find out more.