In today's digital age, having a strong online presence is crucial for any business, including local bakeries. Local search engine optimization (SEO) helps potential customers find your bakery when they're searching for delicious treats in their area.
This guide will walk you through the best SEO practices to boost your bakery's online presence and attract more customers. Let's dive in!
Understanding Local SEO
What Is Local SEO?
Local SEO is a set of techniques and strategies that help businesses rank higher in search engine results for location-specific searches. It focuses on optimizing your bakery's online presence to attract more customers from your local area.
Why Is Local SEO Important for Bakery Businesses?
As a local bakery, your primary customers are those in your immediate vicinity. Local SEO helps your bakery appear at the top of search results when people nearby search for relevant keywords, such as "bakery near me", "French patisserie in Toronto" or "birthday cake near me". This increased visibility leads to more foot traffic and, ultimately, more sales.
Setting Up Your Bakery's Online Presence
Creating a Mobile-Friendly Website
Having a mobile-friendly website is essential, as most people use their smartphones to search for businesses. Make sure your site is easy to navigate, has clear call-to-action buttons, and showcases your bakery's best offerings.
Optimizing Your Site's Metadata
Metadata, including title tags and meta descriptions, should be optimized with relevant keywords to help search engines understand your site's content. For example, if you specialize in French pastries, include "French patisserie" in your title tag and meta description.
Integrating Social Media Platforms
Connect your bakery's website with your social media profiles to create a cohesive online presence. Share your latest creations, and recipes, promote events, and engage with your customers on popular platforms like Facebook, Instagram, and Twitter.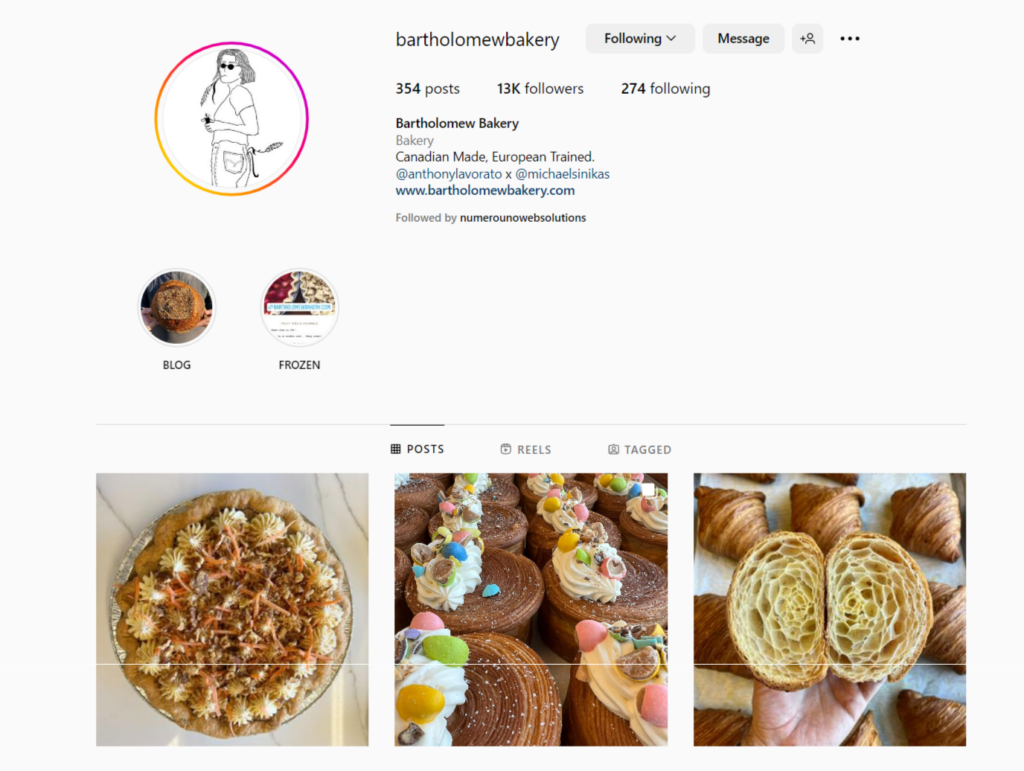 Keyword Research and Optimization
Identifying Target Keywords for Your Bakery
Research popular search terms related to your bakery's offerings and location. Use tools like Google Keyword Planner or Ubersuggest to find relevant keywords, such as "artisanal bakery Toronto" or "best croissants in GTA."
Implementing Keywords in Your Website's Content
Incorporate these keywords naturally throughout your website, including in headings, product descriptions, and blog posts. This will help search engines understand your content and rank your site higher for those terms.
Long-Tail Keywords for Specialized Products
Long-tail keywords, like "gluten-free bread Toronto," or "vegan donuts downtown Toronto" target niche markets and can help your bakery stand out in search results. Incorporate these terms in your content to reach potential customers looking for specific products.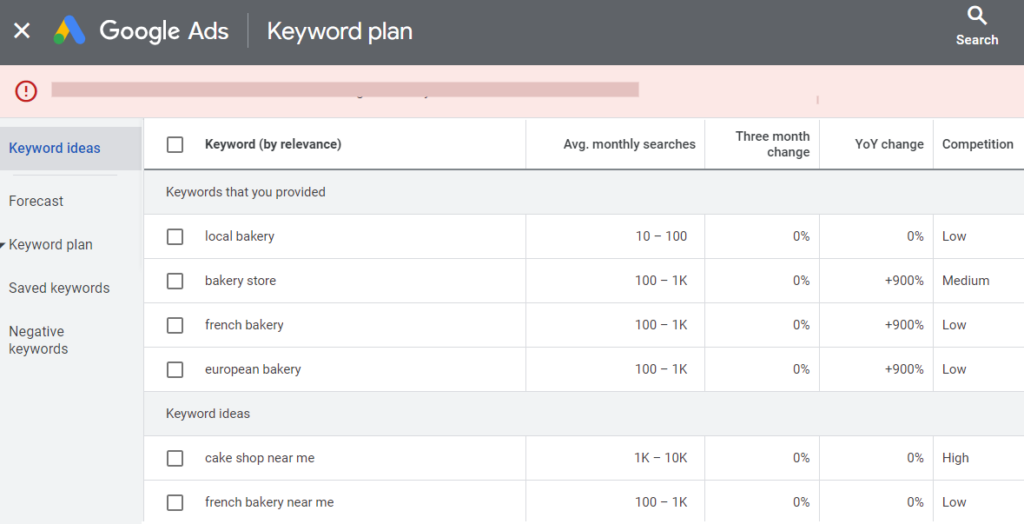 Local Listings for Bakeries
Google Business Profile: Setup and Optimization
Google Business Profile, formerly known as Google My Business, is a crucial tool for local SEO. Create or claim your bakery's listing, add accurate information (like open hours, address, and phone number), and upload high-quality photos to showcase your products.
Bing Places, Apple Maps, Yelp, and Other Food Delivery Websites
List your bakery on other local directories and review sites, such as Bing Places, Apple Maps, and Yelp. If you offer delivery, consider partnering with food delivery platforms like Grubhub, Uber Eats, Skip The Dishes, DoorDash, or Ritual to expand your reach.
Standardizing NAP (Name, Address, Phone) Across All Local Listings
Ensure your bakery's name, address, and phone number are consistent across all online directories. This consistency helps search engines trust your business and improves your local search rankings.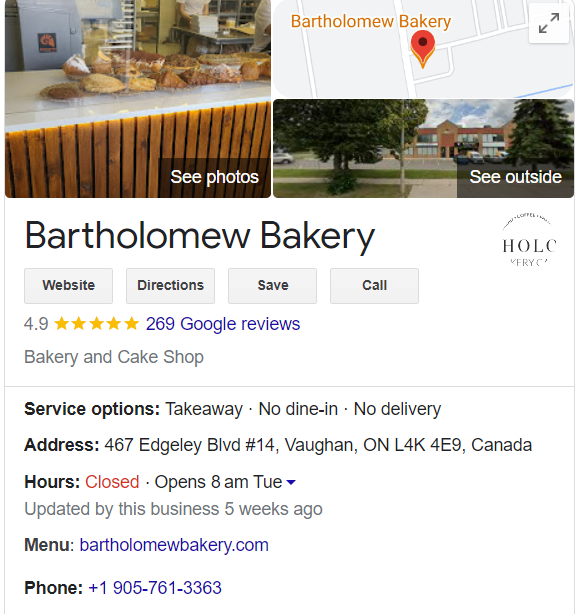 Structured Data and Local Schema Markup
The Importance of Structured Data for Local SEO
Structured data helps search engines better understand your website's content and improves your local search rankings. It presents information about your bakery in a standardized format that is easily understood by search engines.
Implementing Local Schema Markup on Your Website
Add local schema markup to your website's code to provide search engines with additional details about your bakery, such as its location, hours, and product offerings. This can help your bakery stand out in search results and increase click-through rates.
Benefits of Structured Data for Search Engines and Users
Structured data allows search engines to display rich snippets in search results, such as star ratings, images, and location information. These rich snippets make your bakery more attractive to users and can lead to higher click-through rates and increased visibility.
Voice Search Optimization
Understanding Voice Search and Its Impact on Local Businesses
Voice search, which allows users to search for information using voice commands, is becoming increasingly popular. To stay competitive, it's essential to optimize your bakery's website for voice search.
Tips for Optimizing Your Bakery's Website for Voice Search
Use natural language and conversational phrases in your content, as people tend to speak differently than they type.
Focus on long-tail keywords and question-based queries, such as "Where can I find the best cupcakes in Toronto?"
Ensure your website loads quickly and is mobile-friendly, as voice search is predominantly used on mobile devices.
Leveraging Voice Search for Better Customer Engagement
Voice search can help your bakery connect with customers in a more personal way. Use voice search optimization to answer common customer questions and offer relevant information about your bakery, such as menu items or daily specials.
On-Page SEO for Bakeries
Creating High-Quality, Engaging Content
Publishing informative and engaging content on your bakery's website helps attract and retain customers. Share recipes, baking tips, or stories about your bakery's history to showcase your expertise and passion.
Using Header Tags and Formatting for Better Readability
Break up your content with header tags (H1, H2, H3, etc.) and use bullet points or numbered lists to make it easier to read. This improves user experience and helps search engines understand the structure of your content.
Optimizing Images and Multimedia Elements
Optimize your images by compressing them to reduce file size and include descriptive alt tags. This ensures your website loads quickly and is accessible to users with visual impairments.
Setting Up and Maintaining a Blog
Regularly sharing interesting and helpful content like recipes, baking tips, behind-the-scenes stories, and promotions can encourage visitors to return to your website. A regularly updated blog also lets you include target and long-tail keywords in your content, improving your search engine ranking. Promote your blog on social media and encourage readers to share it to extend your reach and build brand awareness.
Local Link-Building Strategies for Your Bakery Website
Collaborating with Local Businesses and Events
Partner with nearby businesses or participate in local events to build relationships and earn valuable backlinks to your website. For example, provide treats for a charity fundraiser or collaborate with a local coffee shop on a special promotion.
Guest Blogging on Relevant Websites
Write guest blog posts for websites related to the food industry, local businesses, or baking. This not only helps build your bakery's reputation but also earns you valuable backlinks.
Engaging with Local Influencers
Connect with local food bloggers or influencers and invite them to review your bakery. Positive reviews and backlinks from their websites can improve your search rankings and attract new customers.
Managing Online Reviews and Testimonials
The Importance of Reviews for Local SEO
Online reviews play a significant role in local SEO, as they help build trust with potential customers and improve your search rankings.
Encouraging Customers to Leave Reviews
Ask satisfied customers to leave reviews on your Google Business Profile, Yelp, or other review platforms. Display these reviews on your website to showcase your bakery's success.
Responding to Reviews and Managing Negative Feedback
Reply to both positive and negative reviews to show that you value customer feedback. Address any concerns in a professional manner and use the feedback to improve your products and services.
Monitoring and Analyzing Your Bakery's SEO Performance
Tracking Your Site's Traffic and Keyword Rankings
Use tools like Google Analytics and Google Search Console to monitor your website's traffic, keyword rankings, and user behaviour. This information will help you understand the effectiveness of your SEO efforts.
Setting and Measuring SEO Goals
Establish clear SEO goals for your bakery, such as improving local search rankings or increasing website traffic. Regularly measure your progress and adjust your strategy as needed to achieve these goals.
Adapting Your SEO Strategy Based on Performance Data
Analyze your SEO performance data and make adjustments to your strategy to improve results. For example, if you notice that certain keywords are not generating traffic, consider focusing on alternative terms or refining your content.
Get Ahead of the Competition with Professional Local SEO Services for Your Bakery
Local SEO is essential for the success of your bakery in today's digital landscape. By implementing these best practices, you can boost your online presence and attract more customers to your bakery. However, executing an effective local SEO strategy can be time-consuming and complex, especially for busy bakery owners.
That's where we come in. If you need assistance with your local SEO efforts, consider partnering with Numero Uno Web Solutions, a leading local SEO company with extensive experience helping businesses like yours thrive in the competitive Greater Toronto Area. Our team of SEO experts will take care of all the details, allowing you to focus on what you do best—creating delicious treats for your customers. Invest time and effort into your bakery's SEO strategy or let the professionals at Numero Uno Web Solutions handle it for you. Don't wait any longer to rise above the competition and enjoy the sweet taste of success. Contact Numero Uno Web Solutions today to schedule a consultation and take the first step toward dominating local search results.