Voice search has evolved as one of the most prominent search methods in recent years. It is not surprising considering the fast-paced nature of the world we live in, the fact that everyone and their mother has a smartphone, and more people than ever rely on mobile devices as a means of communicating with one another today.
Consumers use voice search because they want instant gratification. They want to be able to find the answers to their search queries in a matter of seconds, and touchless voice search options allow them to do just that. Businesses that are adept when it comes to applying voice search optimization are more likely to successfully increase their online visibility and search rankings. Here's how:
Voice Search Presents Unique Ranking Opportunities for Businesses
It is unlikely that voice search will ever completely replace traditional search methods, but there is certainly something to be said for the fact that businesses can always do more to accommodate different search methods. Textual searches are different than voice searches because people tend to write differently than how they speak. Therefore, content creators need to find a way to integrate both text and voice search opportunities into their content without resorting to black hat SEO tactics like keyword stuffing.
The goal is, and should always be, to present users with valuable information in a quick, convenient, and totally digestible format on their terms. Consider the fact that most people either use a mobile device or an artificially intelligent smart speaker like Alexa and Google Home to conduct searches. Approximately 53% of people who own smart speakers use them on a regular basis to perform searches for local small businesses in North America. That's a huge branding and voice search optimization opportunity for local businesses.
Who's Leading the Smart Speaker Market?
Amazon launched the first ever smart speaker, the Echo, back in 2014. Since then, Amazon has managed to hold steadfastly onto its number one position in the smart speaker market. Amazon Echo features the now-beloved artificially intelligent Alexa. Shortly after this innovation, other tech moguls like Google launched their own versions of smart speakers and the accompanying software. Google came out with its virtual assistant in May of 2016.
Smart speakers initially started off as a means of playing music with a simple and convenient voice command. Now, they're capable of doing so much more. Smart speakers can provide answers to general queries, make phone calls, send texts, lock and unlock your car doors, adjust your thermostat settings, start your dishwasher, and even control your TV settings. Any device or appliance in your home that is connected to Wi-Fi can be controlled using smart speaker commands.
How to Optimize Business Listings for Voice Search across Multiple Search Engines, Maps, and Apps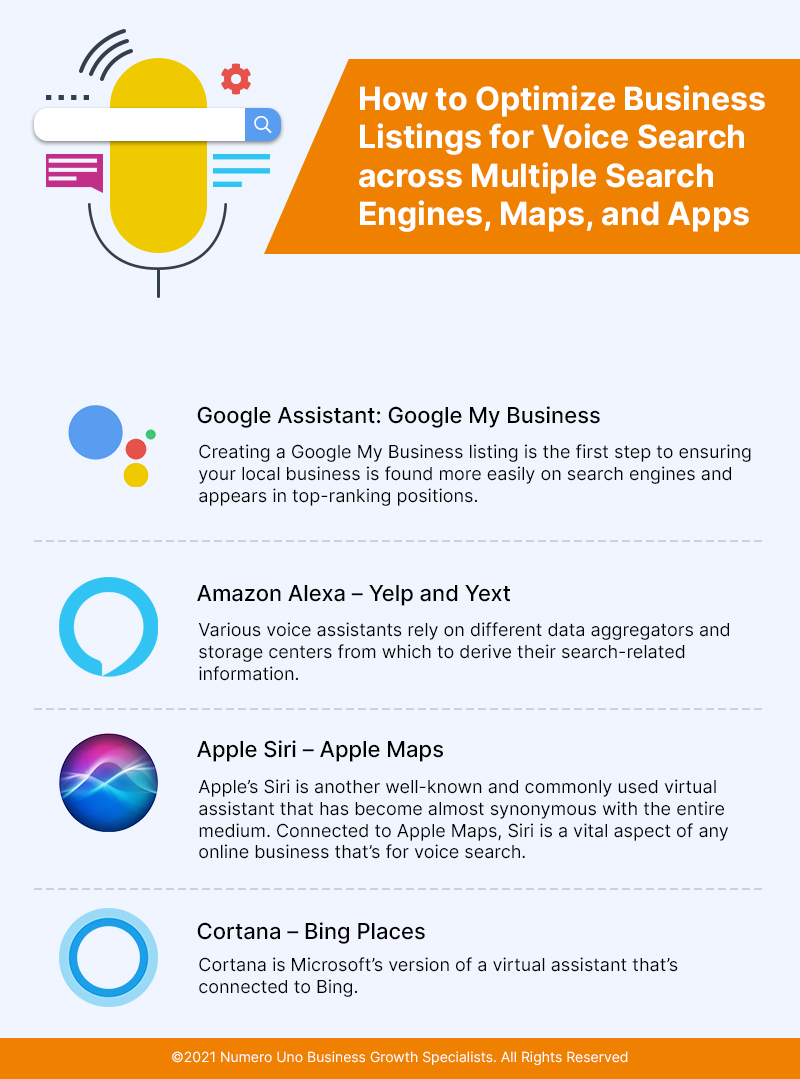 Successful digital marketing campaigns should be visible and available across a variety of online search engines and applications. This will help increase your local business's online visibility and appeal to a much wider target audience. The more online appearances your local business makes, the more impressions you'll make.
Voice search optimization is a multifaceted digital marketing endeavour that involves numerous steps. First and foremost, you need to create an informative yet concise business listing that includes basic pieces of information about your business including location(s), contact information, hours of operation, products and services offered, etc. Here are some of the top apps that you should be featured in if you want more people to learn about your business.
Google Assistant: Google My Business
Creating a Google My Business listing is the first step to ensuring your local business is found more easily on search engines and appears in top-ranking positions. It can help you increase your online citations and build a strong online presence. Verifying your GMB account also increases your searchability because it signifies that you're a legitimate business and gives you total control and authority over your account. Only authorized individuals can make changes or adjustments to verified GMB accounts. Users can use Google Assistant to verbally find the information they are looking for.
Amazon Alexa: Yelp and Yext
Various voice assistants rely on different data aggregators and storage centers from which to derive their search-related information. Yelp is a popular review website where users can either post their grievances with a business or sing their praises. It is important to do everything in your power to generate as many positive reviews as possible, so that you can increase your brand's positive image and foster growth.
Yext is a New York-based online brand management company that allows brands to use its cloud-based network which consists of search engines, apps, and other types of software to promote their online brand awareness across numerous platforms and devices.
Apple Siri: Apple Maps
Every noteworthy tech mogul has its own version of different kinds of software including virtual assistants and mapping apps that provide users with unique interfaces, app features, and setting options. Apple'32s Siri is another well-known and commonly used virtual assistant that has become almost synonymous with the entire medium. Connected to Apple Maps, Siri is a vital aspect of any online business that's for voice search. Siri is an artificially intelligent software that most people speak to as if it's a real person, even going so far as to give her female pronouns. This could have something do with the fact that Siri is in fact voiced by a real person named Susan Bennett.
Cortana: Bing Places
Cortana is Microsoft's version of a virtual assistant that is connected to Bing. It can be used in conjunction with Office 365 and Outlook to set appointment and meeting reminders, daily tasks, and any other work-related functions to help you stay on track.
Get Local SEO Services in Toronto for Your Business
Local SEO services in Toronto from Numero Uno Web Solutions can help you manage your online presence and ensure that all of your platforms and digital marketing campaigns are properly optimized for voice search. Starting with an in-depth website audit, we'll create customized digital marketing campaigns that are guaranteed to increase your search rankings and your ROI. Contact us today to learn more about our voice search optimization services for local businesses.