Competitive analysis is an important part of any business's marketing strategy. After all, if you don't know who your competitors are, it's hard to develop a plan to beat them. But what if you're a small business owner who only operates in a specific geographic area? How can you identify your local competitors?
Before we jump into how to find a local competitor and perform the analysis for local SEO, let's understand what these terms mean.
What Is a Local Competitor?
A local competitor is any business that provides the same or similar products or services as your own company and does so within the same geographic area. In other words, they are your competition within a defined radius and compete with you in your local area for customers, web traffic, and ranking in search engines.
Why Conduct a Competitive Analysis?
A competitive analysis is important for any business, but it's especially critical for small businesses. Why? Because as a local business, you may not be aware of all the competition in your area. And even if you are, you may not know what they're doing to attract customers or how they're selling their products and services.
By conducting a competitive analysis, you can get a better understanding of the local market and what your competitors are doing right (and wrong). This, in turn, can help you make more informed decisions about your own marketing strategy.
It can also help you identify opportunities to attract customers that your competitors are overlooking. And finally, it can give you some ideas about how to improve your own products and services.
How to Find Local Competitors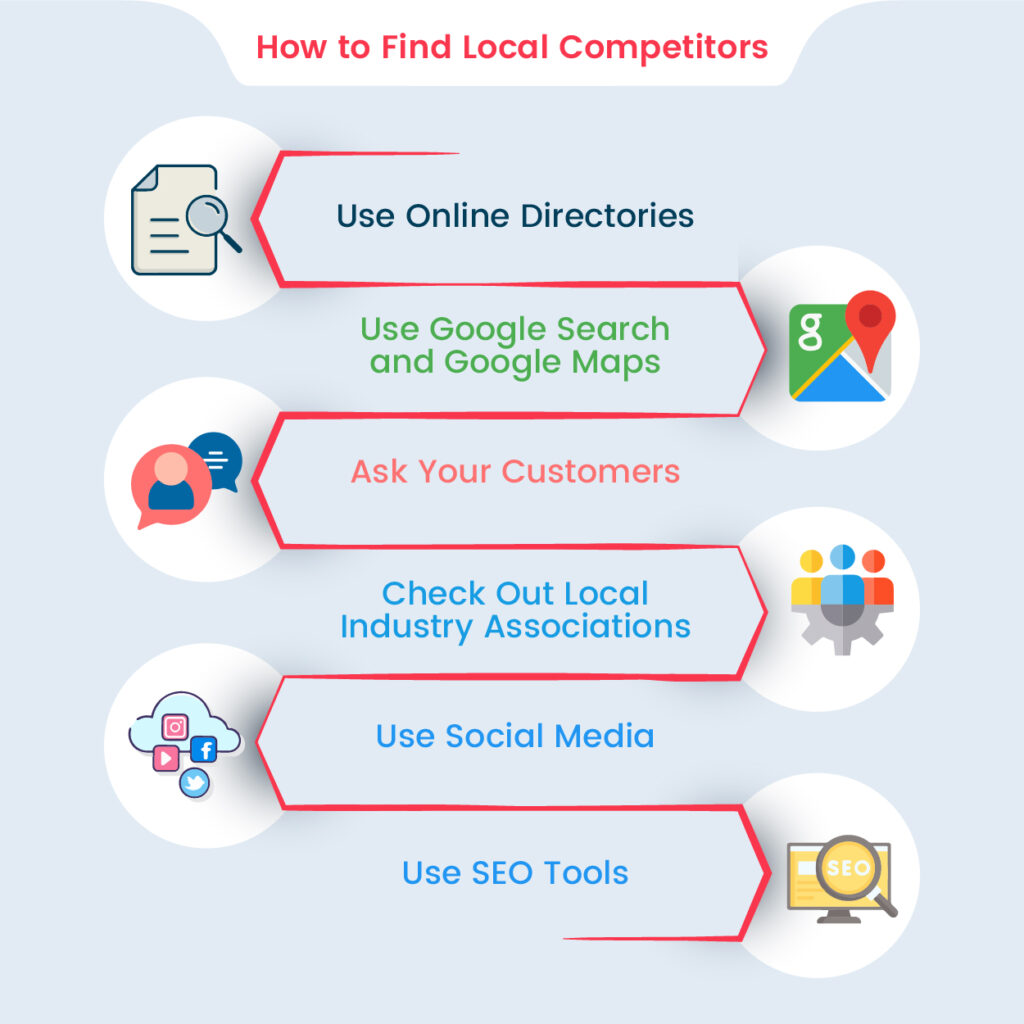 So now that we know why it's important to conduct a competitive analysis, let's look at how to find your local competitors. Here are six tips:
Use Online Directories: One of the best ways to find local businesses is to use online directories. Google Business Profile, Yelp, and Foursquare are all great places to start. Simply search for businesses in your industry and geographic area. For example, if you own a pizzeria in Toronto, you might search for "pizza restaurants in Toronto."
Use Google Search and Google Maps: Another great way to find local competitors is to use Google Search or Google Maps. Simply enter your keyword (e.g., "pizza restaurant") and your location (e.g., "Toronto") into the search bar. This will give you a list of local businesses that appear in the search results.
Ask Your Customers: Don't forget to ask your customers where they like to go for products or services similar to what you offer. They may be able to give you some great insights into local businesses that you didn't even know existed.
Check Out Local Industry Associations: Another great way to find local businesses is to check out local industry associations or chambers of commerce. These organizations typically have lists of member businesses that you can use to start your research.
Use Social Media: Social media is a great way to find local businesses. Simply search for your industry and location on Facebook, Twitter, or LinkedIn. For example, if you're looking for local pizza restaurants, you might search for "pizza restaurants in Toronto" on Twitter.
Use SEO Tools: Another approach is to use SEO tools like Moz Local or BrightLocal. These tools allow you to enter your business information and show how it stacks up against other businesses in your area regarding online visibility and business directory listings.
Once you've identified your local competitors, it's time to start analyzing them. In the next blog post, we'll look at how to conduct a competitive analysis for local SEO.
How Numero Uno Web Solutions Can Help Your Business
Identifying the correct competitors is a crucial job. It is the first thing you need to do to get an insight into what other players in the market are up to. At Numero Uno Web Solutions, we have a team of SEO experts who can help you with competitor analysis and also provide you with tips on how to improve your own SEO strategy. For more information on how we can help you with competitor analysis, please call us at (905) 669-1708 or visit our website.