Local SEO Services for Small Businesses
We're experts in helping small and medium sized businesses dominate their local market through effective SEO.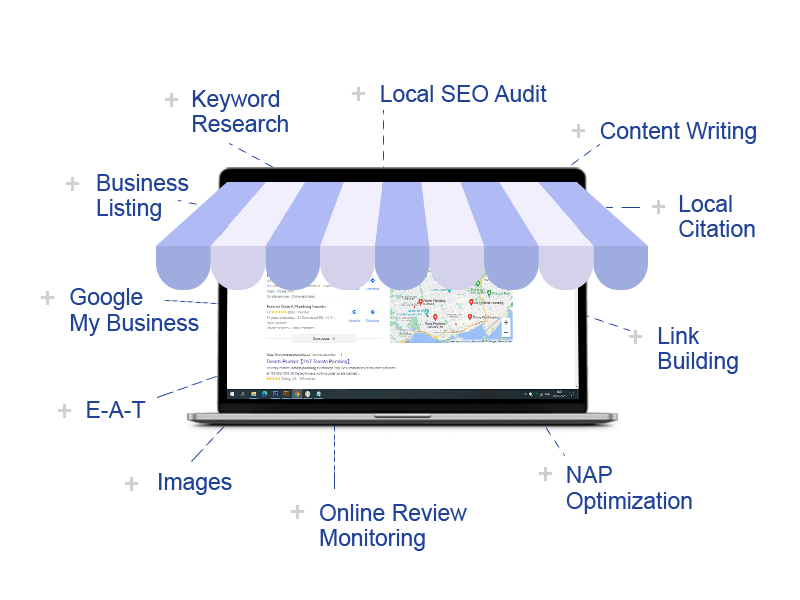 Boosting Your Local Search Presence
Struggling to make your mark in the local market? With Numero Uno Web Solutions, your journey to local dominance begins here. We provide tailored local SEO services for your small business, helping you bridge the gap and stand tall in your local community.
Our data-driven local SEO solutions empower your business to:
Achieve higher visibility in local search results on Google, Bing, and other search engines at your target locations.
Attract more potential customers from your target local area to your website.
Generate more qualified leads and fill up your sales funnel with local customers.
Start outsmarting your local competition with NumeroUno Web Solutions. Let's put your business on the local map together!
Customized Local SEO Strategies: Your Blueprint to Success
We don't believe in one-size-fits-all solutions. Here at NumeroUno, we focus on targeted and customized local SEO strategies that rest on six essential pillars:
Local Keyword Research: We delve into your local market to identify keywords that the potential local customers in your service area are using, providing a solid foundation for your local SEO strategy.
Improving EAT Factors: We concentrate on boosting your website's Expertise, Authority, and Trustworthiness (EAT) factors, crucial for local SEO performance and Google's favour. This involves refining content to highlight local expertise, building quality backlinks for authority, and managing online reviews to build community trust.
Google Business Profile Optimization: We optimize your Google Business Profile, ensuring that your business information is accurate, complete, and appealing to your local customers.
NAP Optimization and Local Citations: We ensure your business's Name, Address, and Phone number (NAP) are consistent across all important local platforms. We manage your citations and help your business get listed in relevant local directories to boost your local presence.
Local Link Building: We identify and leverage local link building opportunities to improve your local search rankings, enhancing your visibility in your local community and target service area.
Content Marketing for Local SEO and Review Management: We create locally-focused content that resonates with your local audience and manage your online reviews across platforms like Google, Yelp, Houzz, and HomeStars to build trust and credibility in your local market.
Ready to see how your site measures up? Try our FREE Local SEO Audit to see where you stand and plan your path forward.
Get Your Business Noticed with Our Local SEO Services
Our Local SEO Process: A Promise of Results and Transparency
Your local SEO journey with us is a clear and direct path to success. Here's how it unfolds:
Discovery and Analysis: We dive deep into your business, customers, local market, and competitors to tailor our strategy to your unique needs.
Local SEO Strategy Development: We assess your current local search visibility, revealing gaps and opportunities to power your local SEO strategy.
Google Business Profile and Local Listing Management: Our services include improving your Google Business Profile, taking care of your local listings, and addressing customer reviews for a better local reputation.
Content Marketing and Local Link Building: We roll out a comprehensive local SEO strategy, targeting your key objectives. This includes creating locally-focused content, and using it to build high-quality local links and citations.
Optimizing Website for EAT: As part of our process, we focus on optimizing your website for Expertise, Authority, and Trustworthiness (EAT) factors. This involves refining your content to highlight your expertise, building high-quality backlinks to enhance your authority, and managing online reviews to foster trust. This optimization is crucial for improving your local SEO performance and gaining favour with Google.
Performance Reporting: With regular, easy-to-understand reports, you'll always know where your local SEO efforts stand. We provide clear insights into your Google Business Profile Insights and Google local pack rankings, helping you understand the impact of your local SEO efforts.
Ready to boost your local business growth? Get in touch with Numero Uno Web Solutions today!
Why Choose Numero Uno for Your Local SEO Services?
When it comes to local SEO, Numero Uno Web Solutions stands out for several reasons:
Experience: With over 14 years in the industry, we've honed our skills and developed effective strategies that deliver results.
Customer Satisfaction: We've served over 500 happy customers, helping them boost their local visibility and grow their businesses.
Positive Reviews: Our quality service is reflected in our 80+ Google reviews from satisfied clients.
Local Pack Visibility: We've successfully achieved Local Pack visibility for all our clients with a local target market focus, enhancing their local presence and driving more traffic to their websites.
Dedicated Project Coordinator: Each of our clients is assigned a dedicated project coordinator. This ensures personalized attention and a single point of contact for all your queries and requirements.
Supporting Services: We offer a range of supporting services such as Website Speed Improvement, WordPress Website Design and Maintenance, Photography Services, and Social Media Management. These services complement our local SEO efforts and provide a holistic approach to your online presence.
Choose Numero Uno Web Solutions for your local SEO needs and experience the difference that expertise and customer-focused service can make.
Frequently Asked Questions about Local SEO Services
Local SEO is a strategy that helps businesses promote their products and services to local customers at the exact time they're looking for them online.
Google Business Profile, formerly known as Google My Business, is a free tool that allows businesses to manage their online presence across Google, including Search and Maps.
EAT stands for Expertise, Authority, and Trustworthiness. These are factors that Google uses to measure the quality of a website.
A local citation is when your local business's name, address, and phone number (NAP) are mentioned on online platforms such as local business directories, websites, and social media. It's important to ensure that your NAP is consistent across all online mentions of your business.
The Local Pack is a set of three listings that appear in Google search results when the search is understood to have local intent. It's a prime spot for local businesses as it appears above organic results.
Local SEO is a long-term strategy and it can take several months to see significant results. However, once achieved, these results tend to be sustainable and long-lasting. Online reviews play a crucial role in local SEO because they help improve the speed and sustainability of rankings.
Local SEO can help your business become more visible in local search results, attract more customers from your local area, and ultimately increase your revenue.