E-Commerce Website Design
If your website is making it to the first page of search engine results, this may be due to your effective search engine marketing (SEM) strategy.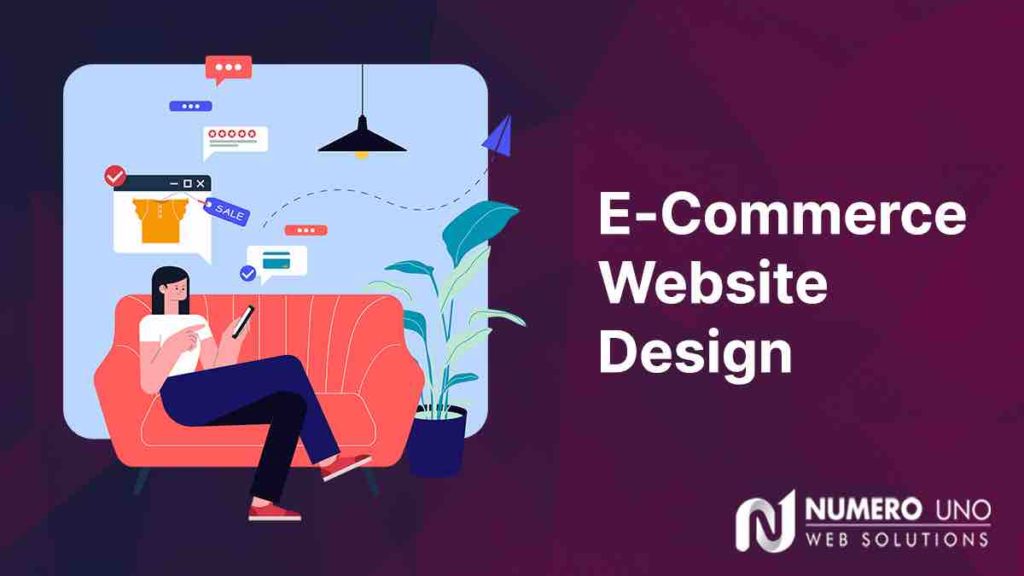 Looking for custom e-commerce website design in Toronto? Then you've come to the right place. At Numero Uno Web Solutions, we're well-versed in e-commerce website platforms such as Shopify, WooCommerce, and Magento. We can create a fully optimized and easy to navigate website that's designed to boost traffic and conversions.
E-Commerce Website Design Technologies We Use
Let us be part of your business growth journey. We can build you a brand new, fully optimized online store from scratch or revamp your existing one to attract more customers. First, it's important to choose the right platform for your online store. We have extensive experience with the following e-commerce platforms:
Shopify Website Design and Development
WooCommerce Website Design and Development
Magento Website Design and Development
How We Deliver Custom E-Commerce Website Design and Development Services
Fully optimized website design and development.
We start by performing in-depth audits and performance evaluations of your existing website. Through this process, we can pinpoint potential or obvious weak points that are slowing down or negatively impacting your website performance and come up with corrective solutions.
Customized shopping cart.
Adding to your cart has never been easier thanks to our custom online interactive transactional services that are designed to enhance your customers' shopping experience.
Integrate payment options.
Custom payment options including debit, credit, PayPal, Venmo, Google Pay, Apple Pay, Stripe, Amazon Pay, VISA Express, etc. open up your e-commerce website to a broader audience. Expanding payment options for your e-commerce website simplifies processing transactions and empowers more people to purchase your products and services.
Take care of user needs and prepare a customized website.
Trust the experienced and accomplished web development team at Numero Uno Web Solutions to create custom website strategies and manage your transaction processes to enhance user experiences. With our top-notch web development and website management skills, your e-commerce store will always operate like a well-oiled machine.
Why Choose Numero Uno Web Solutions for E-Commerce Website Design?
From custom integration to managing your web hosting, security, and offering extensive website management support, Numero Uno Web Solutions offers a lot of value when it comes to helping you build and grow your e-commerce store.
Here are just some of the reasons why you should trust us to manage your website for you.
Experienced and skilled developers for e-commerce websites
Backed by over 20 years of experience building and managing websites, our developers have the skills and knowledge to guarantee safe, secure, and smooth transactions for all of your customers. Our website design expertise allows for easy navigation and custom features that enable customers to find everything they're looking for on your website with ease.
Improve calls-to-action and optimize conversions
Effective calls-to-action (CTA) inform your customers of the best way to contact you when they have a question or require assistance. Our team will craft compelling customized and strategically placed CTAs that provide your customers with the exact information they're looking for so that they can become well acquainted with your business. Falling in line with your website's colour scheme and theme, we'll create CTAs that stand out so that they're impossible to miss and can be easily located when customers need a method of contact.
Create search engine-friendly websites
Among our many web development talents and expertise, we also specialize in creating custom and proven SEO strategies to bolster your online visibility and ranking. From high-quality content such as static pages, landing pages, service pages, and timely articles to optimizing images and uploading informative videos, we can help you create engaging and relevant content that users want to see from your brand. We can create a well-rounded and robust SEO strategy that goes above and beyond simple website optimization and includes social media integration as well.
Improve branding and add credibility
A well-designed and managed website demonstrates a sense of professionalism and pride to your customers. It also influences their overall perception of your business and helps build your brand credibility. Building trust and establishing online credibility and authoritativeness in your industry are crucial benchmarks of professional transactional websites. Customers need peace of mind when making a purchase on your website that the information they provide will remain confidential and protected from cyberattacks or data breaches. We use state-of-the-art security software and encryption formats to prevent malicious activity on your website.
E-Commerce Website Design and Development FAQs
The cost of website design in Toronto and the GTA varies greatly from one agency to another. It also depends on the types of features, services, and content your website requires. At Numero Uno Web Solutions, our team will carefully assess the specific feature and service requirements of each project on an individual basis and work within your budget to come up with a feasible solution.
We also offer a variety of ongoing website maintenance packages at different price points that are designed to fit various business needs and budgets.
Every website design and development project is unique and has different parameters from the web hosting services and platforms you use to the specific challenges your website faces. On average, complete website development can take anywhere from 12 to 14 weeks. Our team will provide you with an estimated timeline after carefully assessing and working on your website development strategy.
Yes. As part of our website maintenance services, our team will produce mobile-friendly content that's easily accessible and compatible with a variety of different devices to drive up website traffic and conversions.
We work with a number of reliable and affordable web hosting services that offer customizable features and templates based on your specific needs and budget. Once we assess your e-commerce website development objectives, we can recommend an appropriate web hosting service that can meet your expectations.
E-commerce store management is one of the biggest requests we get from our customers who are just starting out. During the initial 30 to 60 days post-launch, we provide comprehensive website support and monitoring to guarantee success off the hop and identify areas that require improvement or adjustments.
Contact us today to learn more about our extensive e-commerce website design services in Toronto and the GTA!