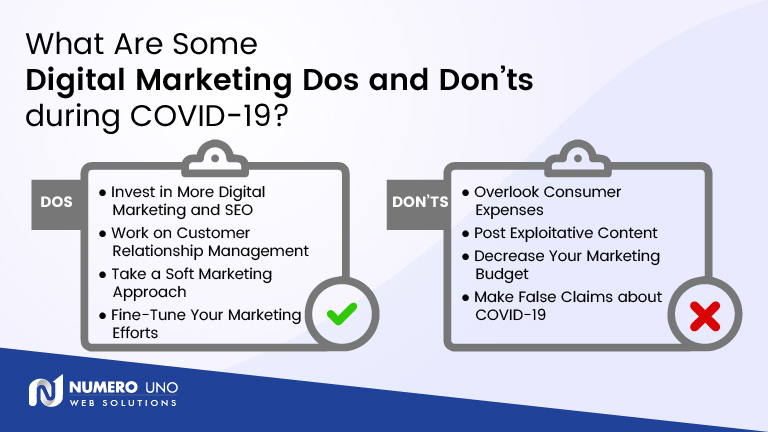 For better or worse, COVID-19 has impacted virtually every aspect of our daily lives. While some have been more profoundly negatively and directly impacted by the pandemic than others, navigating this new normal has been nothing short of challenging. From an economic standpoint, many businesses are struggling to adapt their marketing strategies to fit a new narrative and reassure prospective and existing customers that they're following health and safety protocols. Digital marketing during COVID-19 is certainly difficult, but it's not completely impossible.
Companies need to invest in robust search engine optimization (SEO) strategies to increase the efficacy and cost-efficiency of their customer retention and acquisition efforts during this time. Even with the promise of several vaccines being made publicly available in the coming months, it's hard to pinpoint an exact end to the pandemic. The light at the end of the tunnel is certainly visible from where we stand, but it's hard to say just how long the tunnel is.
Here are some digital marketing dos and don'ts to help you adjust your business strategy and ensure continued growth throughout the duration of the pandemic.
Dos of Digital Marketing during COVID-19
Invest in More Digital Marketing and SEO
Digital marketing was pivotal long before the pandemic started. Since the beginning of the pandemic, however, it's become the primary format for communicating with and reaching out to prospective and existing customers. Social distancing standards and lockdowns have made face-to-face customer interactions increasingly impossible, so digital marketing is the next best thing.
Customers need to feel like they can reach out to your business at any time of the day or night and receive the service they require, especially if you're an international organization or plan on expanding your business. Digital marketing encompasses the use of social media, live chat, and email platforms to deliver consistently high-quality customer service.
Work on Customer Relationship Management
During the pandemic, it's important more than ever to work on building, sustaining, and improving your customer relationships. Customer acquisition is crucial, but retention is even more essential. Better yet, you should be able to strike a balance between appealing to new customers and keeping your existing ones satisfied. Outsourcing customer support services to a reliable and renowned agency is a great way to ensure that your customers are always well taken care of while you attend to pressing business matters.
Take a Soft Marketing Approach
Right now, everyone is feeling immense pressure and stress to keep their business and their finances intact. Keep this in mind when you're putting together a customer acquisition and retention strategy for your business.
Avoid coming off as too pushy or desperate in your marketing endeavours. Instead, take on a softer marketing approach that explains to your customers why they need your products and services and how you can improve their quality of life. Focusing more on creating a well-rounded customer experience helps build trust and brand awareness.
Fine-Tune Your Marketing Efforts
Flexibility is a key feature of a great marketing plan, regardless if it's traditional or digital marketing. Use as many on-brand platforms to propel your business forward as you can and be sure to keep adjusting your marketing efforts as often as necessary to speak to a wider and more diverse audience. Collect feedback from your customers and implement their most popular suggestions to help you build up a stronger brand image.
Don'ts of Digital Marketing During COVID-19
Overlook Consumer Expenses
Everyone has been hit hard financially and to varying degrees over the course of the pandemic. Many people have either been laid off or lost their jobs entirely and are forced to rely on unemployment benefits or financial aid simply to get by and pay their bills.
Be mindful of the fact that many of your target audience members are probably in a more financially precarious situation than they were before the pandemic. Many of them have families to support and businesses of their own that are struggling as a direct result.
Wherever possible, you may want to consider offering financial payment plans for your products and services. This is a great way to demonstrate compassionate customer care and let them know that you truly value their patronage during this extremely difficult time.
Post Exploitative Content
People are becoming extremely adept at quickly identifying exploitative and false content online. There are a lot of dishonest businesses and scammers who are trying to take advantage of emotionally and mentally vulnerable individuals right now using content that contains COVID-19-related keywords such as "quarantine", "social distancing" "sanitation products", etc.
We saw this happen earlier in 2020 when many people were purchasing basic essential items such as toilet paper and pantry staples and selling them online at a ridiculous markup. Google and other platforms are taking serious measures to prevent this type of content from being posted and circulating.
Decrease Your Marketing Budget
Now is not the time to lessen your digital marketing outreach. With more people spending time browsing on social media and other online platforms, this is a golden opportunity to expand your digital target audience. Use social media and other online platforms to educate your audience about your brand as well as the products and services you offer.
Make False Claims about COVID-19
Fact checking has become an important aspect of our social fabric over the past few years. A number of false claims about COVID-19 have been circulating all over the Internet. Be sure to fact check everything you post regarding the virus, vaccines, etc. and only post things that are relevant to your business. Double-check that you're only referencing legitimate news and scientific sources. Otherwise, you could be accused of intentionally spreading false information, which is an unethical business practice and could cause you to lose customers.
If you're looking for a world-class, renowned SEO agency in North America to help you ramp up your digital marketing game in 2021 and beyond, then look no further than Numero Uno Web Solutions. Our SEO experts can come up with a custom digital marketing strategy to help your business thrive during the pandemic. Contact us today to learn more about our services.