The holiday season is when people come together to celebrate with family and friends. It's also a time when businesses see a surge in sales as shoppers take advantage of holiday discounts. If you're a business owner, now is the time to prepare for Black Friday and the holiday season.
With Black Friday around the corner, it's more important than ever to have a well-thought-out marketing strategy. After all, every business advertises deals, and customers are already looking for them. So what will make your business stand out from the rest? With some planning and organization, you can make your business stands out on one of the year's busiest shopping days.
Digital Marketing Tips to Get Ready for Black Friday & Holiday Sales
By following these tips, you're guaranteed to have a stress-free Black Friday and the holiday season.
1. Optimize the Performance of Your E-Commerce Store/Website
Black Friday is a day of high traffic for e-commerce stores, so it's critical that their website loading times are quick. Customers want to find the best deals quickly and make their purchases without delays. If an e-commerce website takes longer than four seconds to load, the transaction rate decreases by 1% each second.
If your website crashes when you experience a surge in traffic, it can be incredibly damaging to your brand not to mention the sales you will lose due to downtime. Due to the heavy traffic, many big brands have seen their website crash on this crucial day. You'll want to ensure your website hosting plan can accommodate your anticipated traffic by including unlimited bandwidth, required storage, and processing power.
Your website should have an SSL certificate to ensure it is secure and HTTPS enabled. Any site that takes payment information should have this to protect your customers' data.
Make sure your checkout process is as smooth and streamlined as possible. Customers should be able to purchase items quickly and easily without any delays. Simplify the steps required to purchase and ensure the CTA buttons are visible and easy to find.
2. Update your Website for the Holiday Season
Get into the holiday spirit by adding a festive theme to your website. This will show customers you're excited about the holiday season and help get them into the shopping mood.
Your homepage is the first thing customers see when they visit your website, so it's important to keep it up to date. Include any special holiday promotions or deals on your homepage so customers can see them right away.
Adding holiday-themed images is a great way to make your website feel more festive. Be sure to use high-quality images that are relevant to your brand.
Use lively language to help the customer see the item in their mind, and make sure to include relevant keywords for better search engine optimization. You should also create a Frequently Asked Questions section to answer customer concerns before they purchase.
Create a sense of urgency by adding a countdown clock to your website. This will let customers know how much time they have to take advantage of your deals.
Don't forget to update your shipping rates and policies to reflect the increased demand during the holiday season.
3. Use Social Media Marketing to Promote Your Sales in Advance
Use platforms like Instagram and Facebook to give your customers a sneak peek of what's to come on Black Friday. Build anticipation before Black Friday arrives by releasing teaser ads and announcing special deals early.
You can create a dedicated hashtag for your sale to generate interest and excitement.
You can list and promote sale items on Facebook, Instagram, and Tiktok. Customers can now shop directly on social media platforms such as Instagram and Facebook.
For promotions on Black Friday, consider working with micro social media influencers. Because they have a strong connection with their followers, they can help you reach more people than you could alone.
Schedule posts ahead of time, and make sure you have enough staff to handle customer inquiries.
4. Don't Forget Email Marketing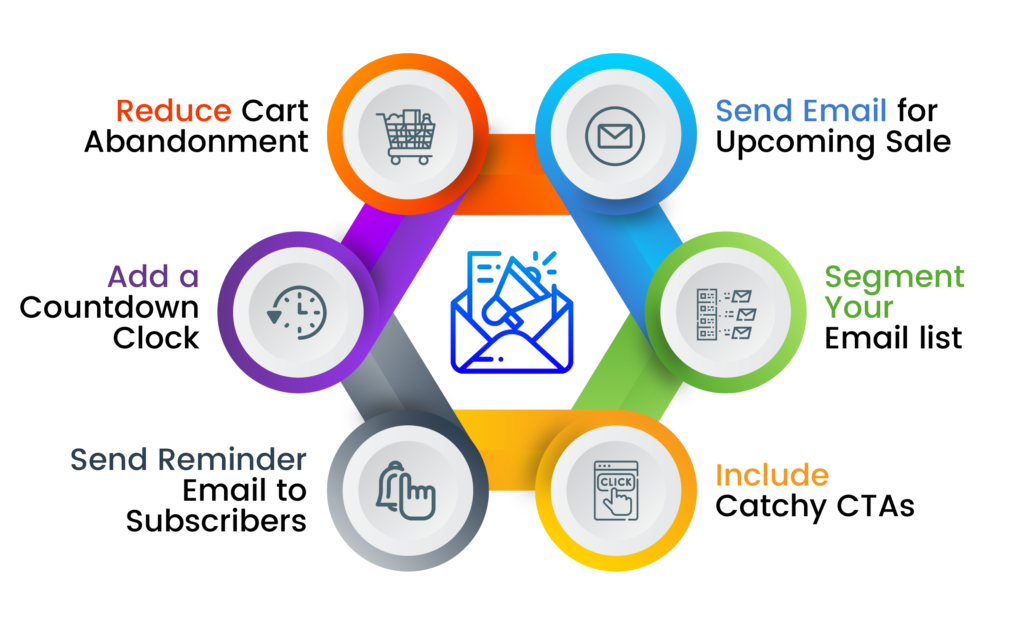 In the lead-up to Black Friday, send out emails to your subscribers to inform them about your upcoming sales.
You can segment your list so that only people who have previously shown an interest in your products receive the emails.
Make sure your subject lines are catchy and include a CTA, such as "Shop Now!"
On the day of the sale, send out a final email reminding your subscribers about the deals you're offering.
You can also include a countdown timer to create a sense of urgency.
Boost your sales by reducing abandoned carts with retargeted emails to such customers.
5. Use Various Offers and Deals to Attract Customers:
Offer free shipping on all orders during the holiday season. This is a great way to encourage customers to shop with you.
Offer discounts on your products and services. You can offer a percentage off, a dollar amounts off, or buy one get one free.
Create bundles of products that are discounted when purchased together. This is a great way to boost sales and clear out inventory.
Offer a reward, such as free shipping or a big discount, for customers who spend a certain amount of money.
Offer coupons that can be used on future purchases. This is a great way to encourage customers to return and shop with you again.
You can use QR codes to connect the online and offline stores by placing them around your physical store. They will direct customers to your online shop and engage customers. Use QR codes to sign up customers for your Black Friday giveaways and make it easy to send and redeem digital gift cards.
Contact Numero Uno Web Solutions for Successful Marketing Campaigns this Holiday Season!
If you want to make sure your campaigns are successful, call Numero Uno Web Solutions today for assistance. As a full-service digital marketing agency, we specialize in search engine optimization (SEO), pay-per-click (PPC) advertising, social media management, and email marketing. We also offer web design and development services. We are based in Toronto but serve customers in the GTA and across Canada. Contact us today to learn more about how we can help your business grow.