As we move into the new year, it's essential to reflect on the successes and failures of the past year and set ourselves up for success in 2023. For businesses, this often means reassessing their marketing strategy and adjusting to stay ahead of the curve.
A critical aspect of any business's marketing strategy is its website. A solid online presence is essential to success in today's digital age. This means regularly updating your website and keeping it optimized and fit for the users and search engines.
If you're looking to make some digital marketing resolutions for the new year, here are some website updates that will keep your website fit and healthy.
How to Keep Your Website Fit in 2023
As a busy small business owner, you may not have time to keep your website up to date all year round. That's why the beginning of the new year is a perfect time to clean your website and prepare a perfect plan to keep the website healthy and fit.
Here are a few tips to maintain your website's health:
Update Your Website Design
A website's design is important for two reasons: first, it needs to be visually appealing to visitors and second, it needs to be easy to navigate. If your website's design is outdated or confusing, users will likely click away before they even have a chance to see what you have to offer. To avoid this, ensure your website's design is modern and user-friendly. Here are a few things to keep in mind:
Layout: The layout of your website should be easy to follow. Users should be able to find what they're looking for without difficulty.
Design Elements: Use design elements such as colour and white space to guide users' eyes to the most important information on your website.
Mobile-Friendliness: In today's digital age, making sure your website is mobile-friendly is essential. This means viewing and navigating on a smartphone or tablet should be easy.
Accessibility: This refers to how easy it is for users with disabilities to access and use your website. When designing your website, keep accessibility in mind to ensure everyone can enjoy your content.
Testimonial Page: A great way to build trust with potential customers is by adding a testimonial page to your website. This page can feature customer reviews and testimonials that praise your products or services.
FAQ Page: An FAQ page (frequently asked questions) is a great way to provide visitors with the information they may want. This page can cover anything from your shipping and return policy to product details.
Optimize Your Page Speed
Nothing is more frustrating to a user than a slow-loading page. Page speed optimization is integral to website optimization, as it affects crucial aspects like user experience, search engine rankings, and conversions. Page speed can be improved through a wide variety of methods such as: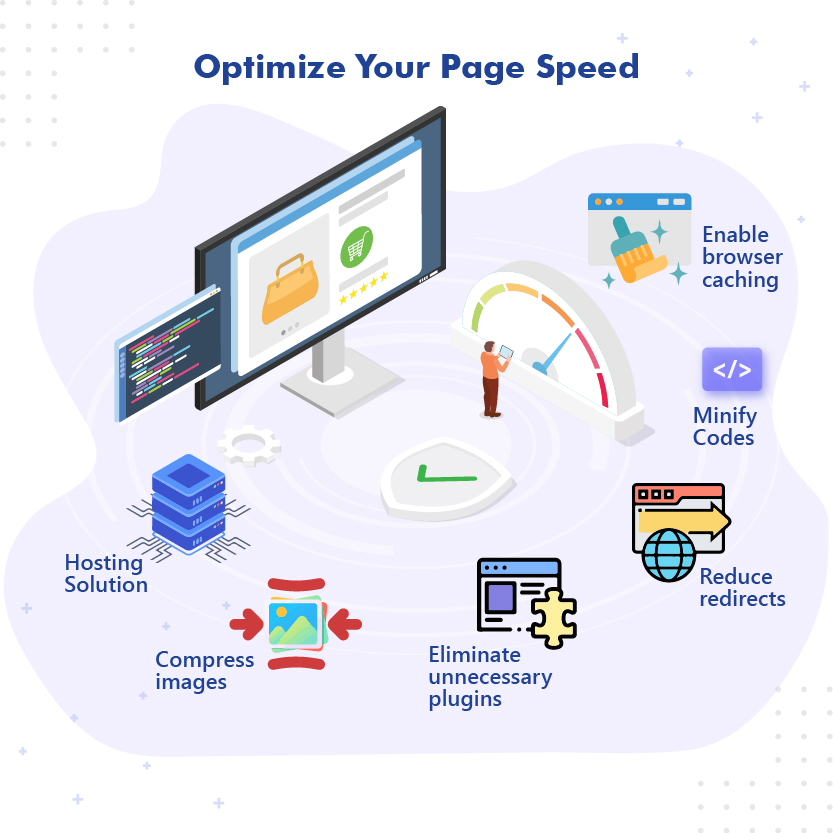 Choose a performance-optimized hosting solution
Compress and optimize your images
Reduce your redirects
Use caching plugins
Enable browser caching
Minify CSS, JavaScript, and HTML
Eliminate unnecessary plugins
Optimizing your page speed takes effort and comprehensive testing, but it pays off with faster loading times and a better web experience for users and search engines. Investing time and resources into optimizing your website's page speed will ultimately yield tremendous rewards in terms of user satisfaction, SEO rankings, and overall effectiveness.
Upgrade Your CMS and Plugins
Ensuring that your content management system (CMS) and plugins are up to date is essential for website security and performance. Outdated CMS plugins are a major security risk and being behind on your updates can open you up to malicious hacker attacks. Further, outdated plugins can cause technical issues that can slow down your website's page speed, leading to unsatisfied customers.
The most common and popular CMS is WordPress and thousands of websites are using it. WordPress is constantly updating and improving, so it's essential to make sure your website is on the latest version which is 6.1.1. WordPress plugins are also frequently updated and should be updated with the latest versions. This will help ensure that your website remains secure and runs as efficiently as possible.
Add an SSL Certificate
SSL certificates are essential for protecting your website and providing a secure connection to visitors. Adding an SSL certificate to your website is a great way to ensure maximum optimization. An SSL certificate not only encrypts and secures the transmission of data between the user's browser and your web server but can also provide important benefits such as improved search engine ranking, increased trust with customers, and a more professional appearance.
SSL certificates can be purchased from leading online vendors and are usually installed in minutes. If you're looking to increase security on your website and take advantage of its many benefits, adding an SSL certificate is a great place to start.
Add Security Plugins
Consider installing a set of security plugins on your website. Security plugins are designed to protect your website from malicious attacks, hackers, and spammers. Most plugins have customizable settings to tailor the security to meet your needs.
Popular security plugins for WordPress include Wordfence, All In One WP Security & Firewall, and Sucuri Security.
Invest in a Good Hosting Provider
A good hosting provider is essential for website optimization. Good hosting will ensure your website remains reliable and secure while providing fast loading times. If you're looking to maximize optimization and performance, there are a few different hosting services.
Popular options include VPS (Virtual Private Server) hosting, Dedicated Server Hosting, and Managed WordPress Hosting. Each option offers unique benefits, so it's worth researching to find the best solution for your website. Some of the best hosting providers are as follows:
Bluehost Web Hosting
InMotion Web Hosting
DreamHost Web Hosting
As you can see, this is the most important digital marketing resolution you can make for 2023. You'll be well on your way to a successful year by keeping your website fit for users and search engines. If you need help with any of these resolutions or marketing fitness goals, we'd love to chat about how we can help. Please send us a message or give us a call today!