An SEO and Content Marketing Case Study
Overview
Our collaboration with a distinguished artisanal bakery nestled in Vaughan, Canada began just over a year ago. Celebrated for their exquisite croissants and health-beneficial sourdough, often dubbed as the "wonder bread," they sought to amplify their online visibility and customer engagement. Prior to our partnership, their primary traffic sources were Instagram, TikTok, and word-of-mouth referrals.
Background
Recognizing the power of SEO and content marketing but constrained by time, they engaged Numero Uno Web Solutions. Their goal was to educate their patrons about their sourdough and other baked goods, including pastries and pies, as well as specialty coffee. With a preference for walk-in customers and biweekly rotating menus featuring seasonal flavours, they aimed to create a buzz that would draw customers to their bakery.
Goals and Objectives
The bakery aimed to bolster their Google Business Profile (GBP) listing and website exposure through SEO and content marketing. They sought to enlighten people about their offerings and inspire more walk-in customers.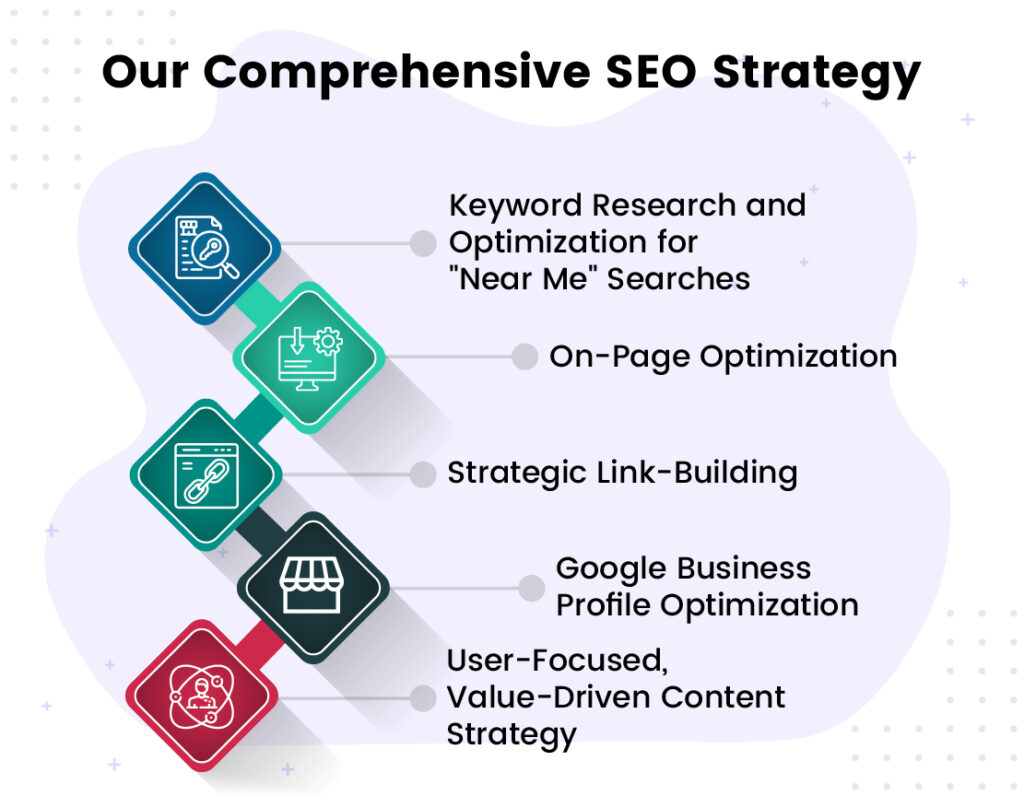 The Solution
We implemented a comprehensive SEO strategy that included:
Extensive keyword research to target highly relevant local and "near me" search traffic.
On-page optimization to enhance search visibility.
Strategic link-building to establish trust and authority.
Google Business Profile Optimization to boost local search visibility.
User-focused, value-driven content strategy.
The Strategies
To meet the bakery's goals, we deployed a multi-pronged SEO strategy:
Keyword Optimization: We meticulously selected pertinent keywords related to their business and baked goods to enhance their visibility on search engines.
On-Page SEO: We optimized their website's content for the target keywords, added all relevant schema to their Squarespace CMS website, and included an FAQ section. We also added a button to encourage website visitors to leave a Google Review.
Link Building: We initiated strategic link-building activities to enhance the bakery's online authority and credibility. This involved creating high-quality backlinks from relevant and reputable websites.
Google Business Profile Optimization: We optimized their GBP and regularly posted about their seasonal specials.
Content Strategy: We crafted multiple educational blog posts on sourdough, croissants, and specialty coffee, which helped increase the organic traffic to the website. We also wrote celebratory blog posts to share the rave reviews they received on social media and wrote about their seasonal specials.
Their GBP now boasts an impressive 330+ reviews.
Organic traffic to the website surged from 880 visits per month to a whopping 3,300 visits in under 10 months with us. Overall website traffic also increased from 3,000 to 6,800 per month.
18 of the target keywords now proudly rank on the first page of Google.
Our educational and celebratory blog posts have not only increased organic traffic but also compelled website visitors to pay a visit to the bakery, thus increasing footfall. Their baked goodies fly off the shelf in no time every single day.
They secured the number 1 position for the following keywords:
artisanal bakery in Vaughan
artisanal bread near me
sourdough bread in Vaughan
croissants in Vaughan
cruffin near me
classic French patisserie in Vaughan
Conclusion
Our partnership with the bakery has yielded significant growth in their online visibility, customer engagement, and footfall. As we continue this relationship, we remain committed to propelling their online presence even further. Interested in learning how we can do the same for your business? Contact us for more information.