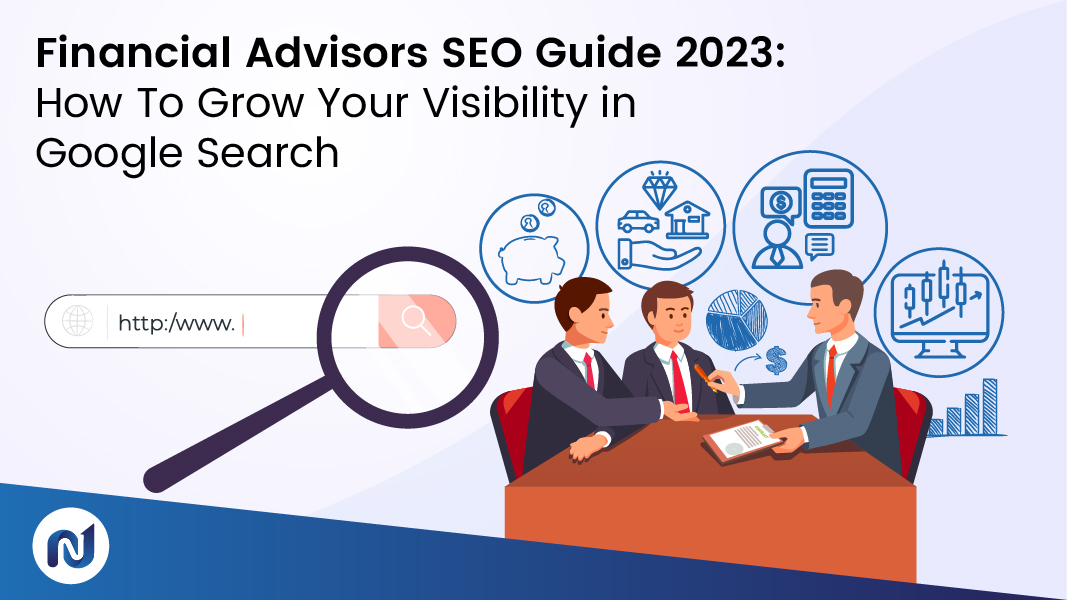 In 2023, for financial advisors and fintech businesses, robust SEO practices have become a vital component of their digital strategies. Leaders in insurance, banking, wealth management, mortgages, fintech, and other financial services have acknowledged the importance of increased visibility on Google's search engine. This comprehensive guide will delve into various strategies and best practices to improve your business's ranking on Google. It will utilize real-world examples to highlight crucial concepts.
SEO for the Financial Advisors Today: Higher Standards and Guidelines
The Impact of Google's YMYL Criteria
Financial services have been categorized under Your Money Your Life (YMYL) by Google. This implies that content related to financial advisors can have a great impact on the financial well-being of users. Thus, it is crucial for content to meet Google's EEAT (Experience, Expertise, Authoritativeness, and Trustworthiness) guidelines. For example, content must be accurate, up-to-date, written by experts and verified by reliable sources.
Maximize Google's EEAT Guidelines for Finance Websites
In December 2022, Google updated its Search Quality Rater Guidelines, adding another "E" (Experience) to the mix. Human evaluators now assess search results, particularly for YMYL (Your Money Your Life) websites, using EEAT, which represents Experience, Expertise, Authoritativeness, and Trustworthiness. High EEAT increases user trust and can lead to more conversions on your site.
The following are the E-E-A-T guidelines that should be implemented by websites of businesses in the finance sector:
| | |
| --- | --- |
| EEAT Factors | Implementation Strategies for Finance Websites |
| Experience | Quality content that demonstrates the creator's first-hand experience with the subject matter (e.g., have a CFP with years of practical experience write an in-depth article on retirement planning). |
| Expertise | Collaborate with financial experts like certified financial planners or chartered financial analysts to create content. |
| Authority | Develop a strong online reputation with authoritative backlinks, like guest posts on reputable industry websites (e.g., Investopedia or NerdWallet) or mentions in popular news sources (e.g., Forbes or WSJ). |
| Trust | Offer credible information from reputable sources, like government websites (e.g., IRS, SEC) or established publications (e.g., The Economist, Barron's); Keep content comprehensive, accurate, and up-to-date, such as regularly updated market analysis and insights, including quarterly economic reports or annual investment outlooks; Present information in a clear, concise, and organized manner, using headers, bullet points, and visual aids like charts or infographics to improve readability. |
Source: https://www.pwc.com/ca/en/
Prioritize Mobile-first Design for Finance Websites
As more users access financial services via mobile devices, optimizing your website for mobile viewing is crucial.
Implement a responsive design that adjusts to different screen sizes.
Ensure fast loading times to prevent user drop-off.
Prioritize user-friendly navigation to facilitate easy exploration of your website.
Consider specific strategies to enhance the mobile experience:
Adopt a mobile-first approach for design and navigation with a hamburger menu for easier navigation, clear call-to-action buttons, proper spacing and font sizes and fast-loading pages.
Optimize images for quicker load times, keeping file sizes as low as possible without sacrificing quality.
Unlock the Power of Keywords for Financial Advisors
Master Keyword Research for Financial Advisory Firms
Keyword research is crucial in understanding the search terms that are most relevant to your audience. Utilizing keyword research tools like Google Keyword Planner, SEMrush, or Ahrefs can assist in discovering high-volume, low-competition keywords. Additionally, understanding the search intent of users can guide the selection of the most effective keywords. By aligning your content with user intent, you can improve its relevance and performance in search engine results.
Understand Keyword Types
Primary and Secondary Keywords: Primary keywords are the most searched terms your target audience uses, while secondary keywords are related phrases that support the primary ones. Using a combination of primary and secondary keywords can help your website rank for a wider range of relevant search queries.
The Value of Long-tail Keywords: Long-tail keywords are longer, more specific search phrases with lower search volumes but higher conversion rates. They allow you to target niche markets and have the potential to rank higher in search results.
Leveraging Local Keywords: Incorporating local keywords into your content can enhance visibility in local search results, making it easier for clients in specific geographic areas to find your services.
Optimizing for Voice Search: With the rising popularity of voice search, it's crucial to optimize your content for voice queries. This involves using conversational, long-tail keywords, providing concise answers to common questions, and structuring your content for easy scanning by voice search algorithms.
Keyword Types and Examples for Wealth Management Company
| | |
| --- | --- |
| Keyword Type | Keyword Examples |
| Primary Keywords | "wealth management services" |
| Secondary Keywords | "investment advice", "financial planning", "retirement strategies" |
| High-Volume, Low-Competition Keywords | "best investment strategies for millennials" |
| Long-tail Keywords | "small business asset management solutions" |
| Local Keywords | "financial advisor in Toronto", "wealth management in Oakville" |
| Voice Search Keywords | "What are the top financial planning tips for young professionals?" |
Align Keywords with Search Intent
Understanding and aligning with search intent is a critical aspect of effective keyword strategy. This involves analyzing what users want to achieve when they enter certain search terms and tailoring your content to meet those needs. Whether they're seeking information, wanting to purchase a service, or comparing different services, your content should cater to these specific intentions to improve engagement and conversions.
Create and Optimize Content for the Target Keywords and User Intent
After identifying your target keywords, the next step is to generate high-quality, informative content centred around these terms. This process involves more than simply embedding keywords into your content – it's about providing substantial value to your audience that not only meets their immediate needs but also positions you as a trusted expert in your field.
Here are a few examples of how to create and optimize your content:
Keyword: "Best tax-saving investment options": Create a comprehensive blog post that outlines various tax-saving strategies, discussing each in detail and providing clear examples. Highlight the advantages and potential drawbacks of each strategy to help readers make informed decisions. For an added visual element, consider creating an accompanying infographic that summarizes the key points.
Keyword: "Retirement planning tips": Develop a series of short, informative videos that offer practical retirement planning tips. Each video could focus on a specific aspect, such as setting retirement goals, understanding various retirement plans, or managing investments. Embed these videos on your site and optimize their titles, descriptions, and tags with the target keyword.
Keyword: "Financial advisor in [Location]": If you're targeting local keywords, create a dedicated service page for each area you serve. For example, a page titled "Financial Advisor in Toronto" could offer detailed information about your Toronto-based services, client testimonials from the area, and local industry insights. Remember to include your target keyword in the page title, meta description, headers, and throughout the content.
By offering relevant, valuable content that directly addresses your audience's needs and queries, you enhance your chances of ranking higher in search engine results. This strategy not only increases your website's visibility but also helps attract more qualified leads, boosting your conversion rates.
Boost Trust and User Experience with Content Showing Expertise
Create In-Depth Pillar Pages
Pillar pages and content clusters are key components in organizing and showcasing your expertise. A pillar page provides a comprehensive overview of a significant topic, supported by content clusters that delve into related subtopics in detail. This approach enhances both SEO and user experience by making content easy to find and navigate.
Example: A pillar page on "Retirement Planning" could be linked to content clusters discussing "401(k) vs. IRA," "Social Security Benefits," and "Retirement Tax Strategies."
Create Effective Content Clusters around Pillar Pages
Follow these steps to craft impactful content clusters:
Identify Core Topics: Pinpoint the primary subjects that resonate with your audience, such as "Investment Strategies," "Tax Planning," or "Estate Planning."
Build Pillar Pages: Construct comprehensive pillar pages for each core topic, offering an overview and ensuring proper internal linking to related content.
Produce Supportive Content: Develop detailed articles, guides, or videos for each subtopic, delivering valuable insights and practical advice.
Link Content Intelligently: Connect pillar pages and related content to create a cohesive structure that's easily crawlable and indexable by search engines.
Review and Update Regularly: Keep your content clusters current and relevant by periodically reviewing and updating them to maintain your site's authority and search engine rankings.
Expert Content: Prove Industry Expertise to Improve Rankings and Educate Customers
Expert content plays an indispensable role in embodying E-A-T principles (Expertise, Authoritativeness, and Trustworthiness), particularly in the financial sector. This is not merely content of high quality, but it is content created by professionals who possess significant expertise in the field. By showcasing the author's credentials and experience in the author's bio, you can underline the expertise behind the content. This practice bolsters your search engine rankings and builds credibility with potential clients.
Example: A wealth management company could engage a Certified Financial Planner or a Chartered Financial Analyst to author a comprehensive guide on "Tax-Efficient Investment Strategies." The author's bio would highlight their credentials and industry experience, establishing the expert status of the content.
Similarly, a video series featuring interviews with these industry experts could be produced, where the experts' qualifications and accomplishments are introduced at the beginning of each video. This strategy positions your brand as a reliable source of financial information, increases conversions, and enhances client engagement, all while building your reputation as a trusted authority in your field.
Dominate Google SERPs with Financial Advisor SEO
On-page SEO Essentials
Improve your website's Google search ranking with these on-page SEO tactics:
Strategically place primary keywords in page titles, headings, and meta descriptions.
Produce unique, engaging content that resolves user queries.
Build detailed verifiable individual financial advisor profile pages including qualifications, achievements, experience, external proofs (social profiles, media mentions, publications, books etc.), links from alumni profiles, association memberships, etc.
Structure content with header tags (H1, H2, H3) for ease of scanning.
Enhance images with meaningful file names, alt tags, and correct compression.
Employ schema markup for rich snippets in search engine results.
Guarantee mobile-friendly, fast-loading webpages.
Implement SSL encryption for secure data transmission and instill trust in users.
Use services like Cloudflare for Content Delivery Network (CDN) integration to reduce latency, improve website loading speed and enhance user experience.
Ensure there is optimal internal linking from the navigation sections like the top menu, footer and sidebar menu as applicable.
Ensure optimal in-context internal linking from various content sections between related pages and articles/blog posts.
Google Business Profile for Local SEO
Enhance local SEO by optimizing your Google Business Profile:
Claim and verify your business on Google for accurate information in local search results and Google Maps.
Maintain consistency in business name, address, and phone number (NAP) across all platforms. Include operating hours, website URL, and a brief service description.
Select suitable categories to accurately portray your business.
Showcase your brand with high-quality images.
Actively manage and respond to client reviews.
Regularly post business updates, news, events, or promotions.
Link-building Strategies for Finance Advisor Websites
Strengthen your site's authority and ranking with high-quality backlinks:
Generate share-worthy content like comprehensive retirement guides or market analyses to attract organic backlinks.
Partner with trusted industry sites (e.g., Forbes or Financial Times) for guest posting.
Promote content via social media and email, targeting relevant LinkedIn groups or industry newsletters.
Establish relationships with industry influencers and journalists for media coverage.
Conduct expert interviews or create industry reports to earn references, such as annual financial market forecasts or studies on consumer financial behaviour.
Final Thoughts: SEO Success for Financial Advisors
The essence of this guide emphasizes the strategic importance of SEO for financial advisors and firms. By focusing on SEO enhancements and staying abreast with industry trends, financial professionals can outperform competitors, connect with a broader audience, and reinforce their authority, thereby driving sustainable growth and success.
Partner with Numero Uno Web Solutions for Financial Services SEO
Elevate your financial services business by teaming up with Numero Uno Web Solutions. With profound knowledge and experience in managing financial sector websites, we are well-equipped to tackle the distinctive challenges in insurance, banking, wealth management, mortgages, fintech, and more.
Our team of experts will work in collaboration with you, designing a bespoke strategy that strengthens your online presence and aligns with your business goals. We achieve this by leveraging top-notch content creation and optimizing your website for SEO. Reach out to us today to uncover how we can help your financial services firm excel in the digital landscape.