On May 10, 2023, Google revealed a plan to revolutionize online search. They named this venture the Search Generative Experience (SGE). It utilizes cutting-edge AI technologies, earlier termed "Magi", to make online searches more comprehensive and personalized.
Unpacking Google's AI-Boosted Search
The new Google search displays AI-created answers at the start of the search results. Each answer is enclosed in a box labelled "Generative AI is experimental". These answers include references to the originating websites, and users can ask additional questions or explore further on the topic. Interestingly, the AI answer box colour varies based on the search type and user intent.

Revamping Online Shopping with AI
SGE introduces a fresh approach to displaying Google Shopping results. It can provide real-time, AI-generated product suggestions from a staggering 35 billion listings. This significantly improves online shopping by quickly connecting users with the specific products they need.
For instance, if a user searches for "winter boots", Google Shopping could pull up AI-suggested options from various online stores, considering factors such as the user's location, previous shopping history, and trending styles.
Key Takeaway: Ensure you add your products list to Google Shopping and update your list regularly for any changes like product additions, product removals, price changes, etc. with all the relevant information to improve your chances of being successfully featured in the SGE display.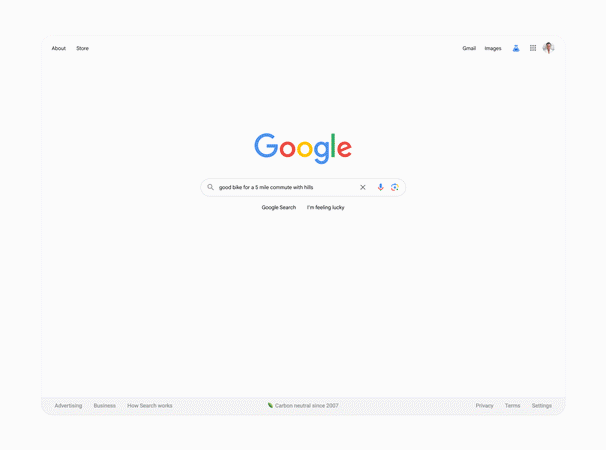 Facilitating Interactive Search Experiences
SGE allows users to expand their initial search with more detailed questions or prompts, creating an interactive dialogue with the search engine. The AI understands the context and helps users continue their exploration in a more conversational manner.
Key Takeaway: Provide more in-depth information about your service/product using unique text, image, video, and audio mediums when applicable. This will increase opportunities for your brand to be featured in these experiences.
Ensuring Safety and High-Quality Search
Google employs several large language models (LLMs), including MUM and PaLM2, to ensure search tasks yield high-quality results. Google is also committed to safety and avoids generating answers to sensitive inquiries, like those related to medicine or finance. It strictly avoids explicit or dangerous topics, prioritizing user safety.
Key Takeaway: If your SMB operates in the health or finance domains, the search interface may not see much change for now.
Google's Five-Step Strategy for AI in Search
Google's strategy for integrating AI into search is made up of five key areas:
User needs: Streamlining the user experience to aid in task completion
Quality: Guaranteeing top-notch AI-generated answers
Safety: Ensuring the accuracy and safety of the provided answers
Ecosystem: Encouraging users to explore the original websites that contribute to the answers
Ads: Evaluating the relevance of ads within this new search landscape
Acknowledging Source Websites
The SGE emphasizes the importance of acknowledging the websites that contribute to the creation of answers. The answers display the website's name, a small image, title, and a link leading back to the website, therefore supporting website traffic.
This means that the search ecosystem will continue providing opportunities for SMBs to get qualified traffic and, as a result, SEO will continue to be an important marketing tool to capture organic search traffic.
What Lies Ahead for Google's SGE
Google's quality raters are currently testing SGE. Their feedback will help refine the results and user experience. Although SGE isn't designed to immediately replace Google's existing search, it represents a more sophisticated search tool that may eventually become the standard Google search.
Mastering Google's SGE: Success Blueprint for Canadian SMEs
Google's SGE ushers in a new era of opportunities for Canadian small and medium-sized Enterprises (SMEs) to amplify their digital strategies. Here are some key focus areas:
Crafting Quality Content: High-quality, unique, and user-friendly content that aligns with your expertise and experiences is essential. For instance, a local bakery could maintain a blog section on their website, where they share interesting facts about various types of bread, enriched with scientific references about the benefits of whole grains. This could include practical tips, do's and don'ts, and how-to information, highlighting their industry knowledge.
Enhancing Visual Engagement: If your product or service is better understood visually, integrate videos and photos showcasing its use or the process behind it. For example, a gardening service could upload videos demonstrating how they transform a backyard into a beautiful green space.
Showcasing Success Stories: Case studies can be a powerful tool to exhibit how your product or service addresses customer problems. An IT solutions company, for instance, could share a case study detailing how they helped a client improve their network security, thereby demonstrating their expertise and effectiveness.
Highlighting Your Assets: Information and photos about your team, equipment, and process can be highlighted in the "About Us" or "Our Process" sections of your website, offering insight into your operations and reinforcing your credibility.
Collecting and Displaying Testimonials: Encourage satisfied customers to leave a review on Google or provide a testimonial. For example, a fitness trainer could request clients who have achieved their fitness goals to share their experiences. If a client is particularly pleased and willing, a video testimonial could be an effective way to showcase their satisfaction with your service.
Strengthening Your Online Presence: A robust online presence with high-quality, relevant content can increase the likelihood of your website being included in AI-generated responses. This can drive more traffic to your site and enhance your visibility.
Leveraging E-commerce: SMEs can take advantage of Google Shopping's real-time product listings by adding their products to Google Merchant Center. For instance, a Toronto-based clothing retailer could increase product discoverability through AI suggestions in Google Shopping by listing their inventory on the Merchant Center.
Embracing Technological Advancements: We're transitioning into an era dominated by AI. It's essential to adapt to these changes to enhance your digital footprint, engage your customers more effectively, and stimulate business growth.
We are on the cusp of a significant shift in digital search and commerce, presenting both challenges and opportunities for Canadian SMEs. At Numero Uno Web Solutions, we aim to guide you through this complex, changing terrain. Together, we can turn these challenges into opportunities for growth and success.
Stay in touch with us for more insights into the evolving digital landscape and how you can benefit from it. As we navigate this AI-driven era, we're committed to supporting you every step of the way!