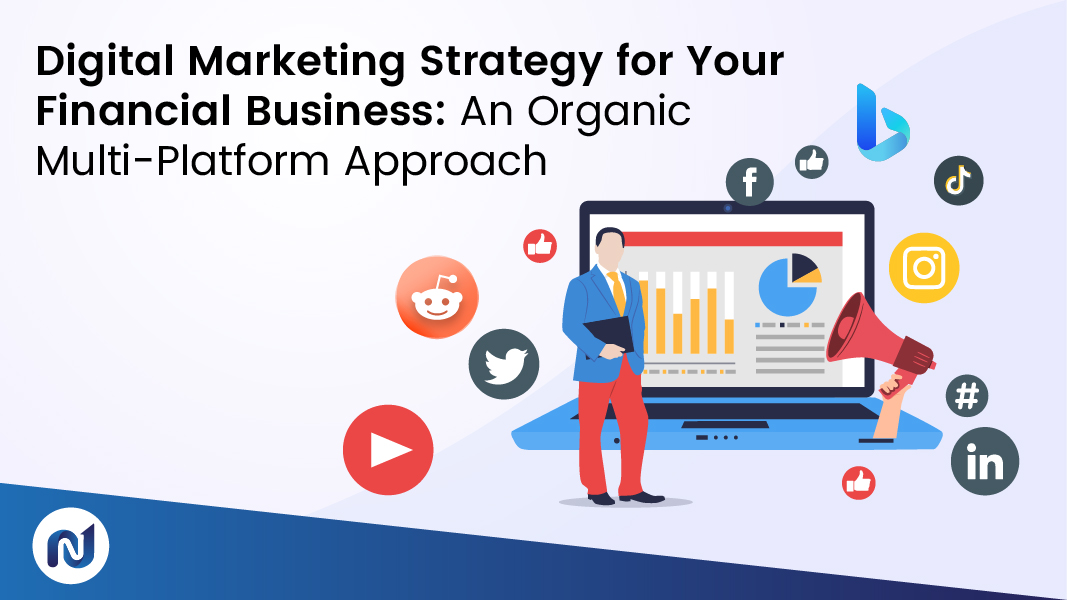 In an era where screens rule and connectivity drives decisions, businesses in the financial sector can no longer depend solely on traditional marketing techniques. Today's cutthroat competitive landscape demands a thorough, multi-dimensional digital marketing strategy.
Following up on our previous piece, "Financial Advisors SEO Guide 2023: How to Grow Your Visibility in Google Search," we're going to explore a multi-platform digital marketing strategy. This strategy uses the power of YouTube, Twitter, Reddit, Bing, LinkedIn, Facebook, Instagram, and TikTok to promote your financial brand.
This comprehensive guide is designed for decision-makers in insurance, banking, wealth management, mortgages, fintech, and other financial services in Canada. The aim is to broaden your online visibility organically, capture a diverse audience, and ultimately drive more conversions. This organic digital marketing strategy can be complemented with a paid one as required.
Capitalizing on YouTube's Reach and Engagement
Video: A Dominant Force in Search and Social
Boasting over 2.2 billion monthly active users, YouTube has firmly established itself as the world's second-largest search engine and social platform. Its extensive reach and high engagement rates make it an invaluable asset for financial services brands looking to broaden their online presence.
Leveraging YouTube for Financial Advisors and Wealth Management Firms
YouTube presents numerous advantages for financial institutions, such as:
Enhances SEO performance by showcasing Experience and Expertise
Connects your finance brand with a younger, tech-savvy audience
Generates brand visibility, traffic, and engagement for years to come
Helps segment potential customers through targeted educational and informative video content
Take, for example, a financial advisor who creates a series of videos on retirement planning strategies. These videos target a very specific audience, showcase the advisor's expertise in retirement planning, and provide value to the target audience.
Source: https://www.youtube.com/user/TMFGThornhill
Maximizing YouTube Content Impact with Optimization
To fully realize the potential of your YouTube content, consider the following optimization tips:
Add well branded intros and outros to your videos
Group your videos into YouTube Playlists mapping them to your target audience and their interests
Add engaging, keyword-rich titles and descriptions, like "Top 5 Investment Strategies for Young Professionals"
Design captivating custom thumbnails to entice viewers, such as a visually appealing image combined with a short, bold title
Incorporate relevant tags to help users discover your content more easily
Employ annotations, end screens, and cards to promote related videos and foster viewer engagement
Motivate viewers to like, comment, and subscribe to your channel to build a loyal audience
Tapping into the Digital Marketing Potential on Twitter
How Financial Institutions Can Benefit from Twitter
Financial institutions can leverage Twitter to increase brand awareness, connect with a younger demographic, and address customer inquiries. By sharing pertinent content and engaging in industry conversations, you can showcase your expertise and forge connections with potential clients.
For instance, a mortgage broker can share timely insights about interest rate changes or retweet informative articles about home buying to demonstrate their industry knowledge.
Building Connections with Industry Influencers
Interact with influencers and experts in your field by retweeting, commenting on, and engaging with their content. This can boost your brand's reach and credibility while nurturing valuable relationships.
Imagine a financial planner who regularly interacts with a well-known and influential personal finance expert on Twitter. This relationship can lead to increased exposure and potential referrals.
Embrace Hashtags and Twitter's Paid Blue Tick Subscription
Employ relevant hashtags to participate in trending industry conversations and increase your content's visibility. For example, use hashtags like #financialplanning or #investmenttips when sharing content related to these topics.
Additionally, consider utilizing Twitter's paid blue tick subscription to enhance your profile's credibility and improve your chances of gaining followers who trust your expertise.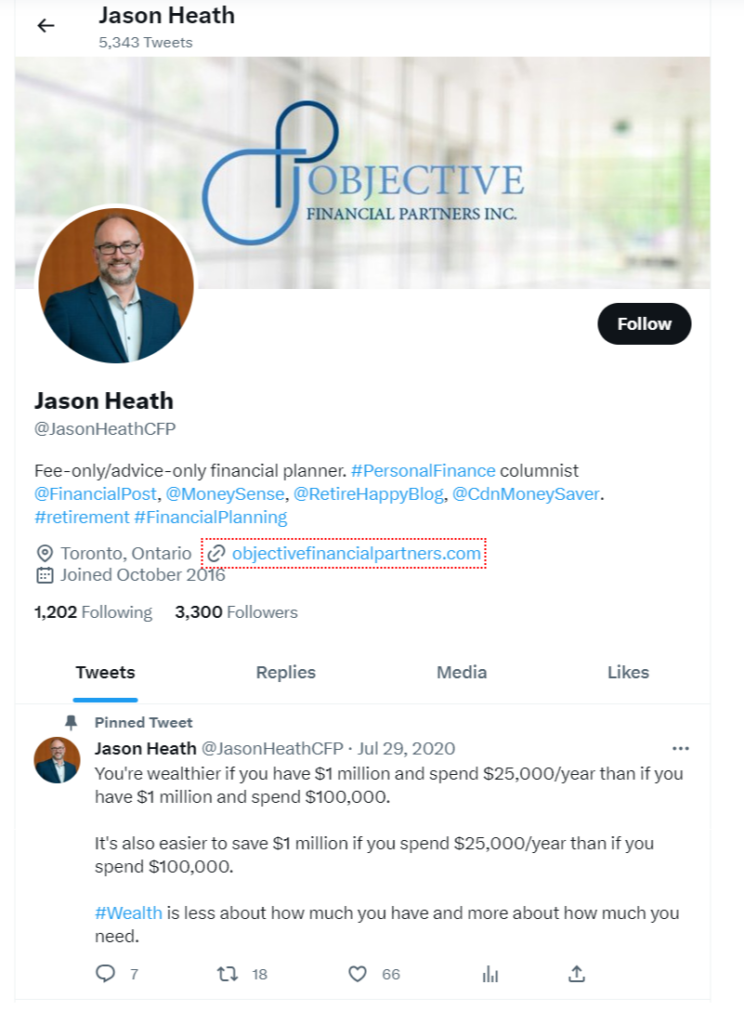 Source: https://twitter.com/JasonHeathCFP
Engage with Reddit's Popular Financial Communities
Reddit: A Thriving Community for Finance Enthusiasts
With a global user base of nearly 270 million, Reddit is a bustling community forum featuring numerous finance-focused subreddits that draw millions of unique monthly users. By engaging with users in these communities, you can access a highly targeted audience with a keen interest in financial services.
For instance, joining discussions on subreddits like r/personalfinance or r/investing can help you connect with individuals actively seeking financial advice or investment tips.
Effective Strategies for Reddit Engagement and Twitter Cross-Promotion
To successfully engage with Reddit users and cross-promote on Twitter, adopt these strategies:
Share valuable insights, respond to questions, and participate in pertinent discussions. For example, provide expert advice on retirement planning in response to user inquiries
Utilize trending Reddit hashtags in your tweets to boost visibility, such as #personalfinance or #cryptocurrency
Connect with key influencers in the FX, Banking, Personal Finance, Fintech, Blockchain, or Crypto space on both Reddit and Twitter. This can help strengthen your professional network and increase your brand exposure.
Retweet, comment on, and interact with influencers and other Reddit users to foster connections and build a loyal following
Share market insights on both platforms, bearing in mind the fast-paced nature of financial markets. For example, post real-time analysis of market movements or share commentary on breaking news events.
Empower Business Networking and Branding with LinkedIn
LinkedIn's Influence in the Financial Sector
LinkedIn is more than a professional networking site; it's a platform where financial advisors and institutions can establish their brands, share insights, and connect with potential clients. With over 700 million professionals on LinkedIn, the platform provides an opportunity to reach a large, engaged audience in the financial sector.
Maximize LinkedIn for Financial Businesses
Financial advisors can utilize LinkedIn to share professional achievements, provide industry updates, and publish thought leadership articles. These activities not only enhance their professional image but also attract potential clients. Similarly, financial institutions can use LinkedIn to showcase their company culture, highlight key team members, and share updates about services or products.
An investment firm, for instance, could share an article about the rise of ESG (Environmental, Social, and Governance) investing, while a loan company could post about a recent hire to their customer service team, underscoring their commitment to excellent client communication.
Strategies for Successful Networking and Lead Generation on LinkedIn
A wealth manager could start discussions on posts made by industry thought leaders to gain visibility. By employing LinkedIn's advanced search feature, they can identify potential clients interested in wealth management, and initiate a professional conversation.
To make the most of LinkedIn, consider the following strategies:
Build a robust business page that highlights your website, services, expertise and achievements
Build connections with relevant stakeholders (employees, clients, influencers, industry peers, partners, etc.) to increase visibility and reach
Regularly share high-quality content that provides value to your audience
Engage with your network by commenting on and sharing their posts
Join relevant LinkedIn groups to connect with industry peers and potential clients
Use LinkedIn's advanced search feature to identify and connect with potential leads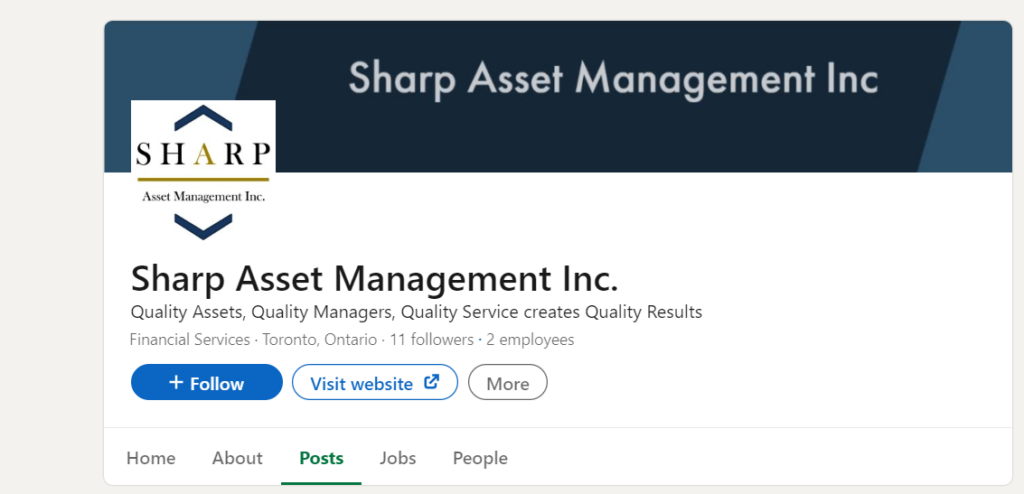 Source: https://www.linkedin.com/company/sharp-asset-management-inc/
Exploit the Power of Facebook, Instagram, and TikTok
Facebook: An Indispensable Tool for Financial Brands
Owing to its enormous user base and advanced audience targeting, Facebook remains a vital tool for financial brands. It provides a perfect space for detailed content, live videos, and sharing insightful blog posts to connect with potential customers, showcasing not just services and products, but also the personal side of your brand.
For example, a wealth management firm could host a Facebook Live Q&A about tax planning, thereby engaging its audience and showing its expertise in real time.
Instagram: Visual Storytelling for Finance
Instagram, known for its visual appeal, is ideal for sharing infographics or short video clips that can help break down complex financial concepts. A financial brand might share a "day in the life" series or a carousel post of tips for smart investing.
A fintech startup, for instance, might collaborate with an Instagram influencer specializing in savvy money-saving tips to introduce a new budgeting app, leveraging the influencer's credibility and audience reach.
TikTok: Engaging the Younger Demographics
TikTok, popular for its brief and engaging videos, has emerged as a powerful channel to reach younger audiences. Financial brands can create snappy, educational videos to explain complex concepts like compound interest in an entertaining way.
Paid ads on TikTok, coupled with its advanced targeting capabilities, can enhance reach and drive conversions. A financial advisory service could sponsor a TikTok ad, with a catchy tune, highlighting the importance of early investment to target young professionals.
The Underrated Potential of Bing and Other Search Engines
The Significance of Diversifying Your SEO Strategy
While Google reigns supreme in the search engine market, optimizing your website for Bing and other search engines can unlock additional sources of traffic. Each platform has its unique algorithms and ranking factors, so diversifying your SEO efforts is crucial for reaching a wider audience.
Optimizing for Bing and Other Search Engines for Additional Traffic
For example, a financial services company might find success on Bing by optimizing their website for Bing's ranking factors, such as keyword density and backlinks from trusted sources. By doing so, the company can potentially reach users who prefer using Bing over Google, leading to increased web traffic and brand visibility.
Conclusion
A robust digital presence isn't merely having a well-optimized website; it encompasses a multi-platform approach, leveraging the unique benefits of each platform. By understanding and utilizing the potential of YouTube, Twitter, Reddit, Bing, LinkedIn, Facebook, Instagram, and TikTok, financial businesses can significantly enhance their online visibility and reach a broader audience.
Implementing a multi-platform strategy is not a one-time task but an ongoing process demanding consistency, creativity, and adaptability. Moreover, having a strong presence across various platforms bolsters your brand's E-A-T (Expertise, Authority, and Trustworthiness)—a crucial element (websites belonging to YMYL) for ranking well in Google's Search Engine Results Pages (SERPs).
If you're looking to revamp your content strategy to expand your reach, consider hiring a professional agency like Numero Uno Web Solutions. We can provide you with the necessary guidance and resources to ensure your financial website's digital presence stands out from the crowd.